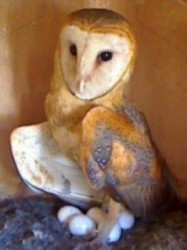 The first owl egg has pipped, so we should be getting an owlet within hours. You can watch the miracle of life here. (Right now Molly's eating a rat.)
I keep the big computer on the owl cam all day long, in full-screen mode, and use the laptop for everything else. I keep a close eye on what's happening in owl world. Duncan was watching on the big screen the other day, and Molly was making some interesting owl noises. Duncan got up on the desk and inspected behind the screen to see what was going on. I thought that was very clever of him. I remember when I used to think all the people on TV were actually inside the TV.
I used to have two cats – Mr. Jones and Catastrophe – who would watch TV. The TV was on the floor and they'd both sit in front of it and watch. Their favourite shows were hockey and wildlife documentaries. Both their heads would swing back and forth in unison as they followed the puck or watched the cheetahs running across the screen.
What else is new? I had insomnia last night. I got slightly more than no sleep.
I really like this ballet-dancing tree at Turnbull School.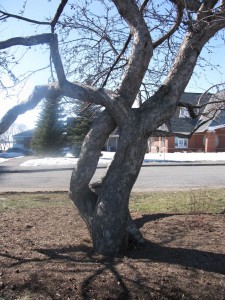 Also: Canada Post took my mailbox away.