It was stinking hot on Tuesday night, so GC and I headed off to the Empire Movie Theatre for 90 minutes of air conditioning and a strange movie about babies. It was called Babies. There was no plot and no dialogue. Just footage of four babies during their first year of life. There were baby boys from Namibia and Mongolia and baby girls from Japan and the U.S.
Babies was charming without being obnoxiously cute. It was interesting to see the similarities and the differences in babyhood across cultures. It was also interesting to watch the babies develop relationships with the people and animals in their lives. I fell in love with the Mongolian baby, who was hilarious; GC's favourite was the Namibian baby.
I remember thinking, when my son was a baby, that watching him develop was like watching human beings evolve…learning to work that opposable thumb, learning to use tools, going from crawling to being upright, acquiring language….all kinds of things.
GC and I talked afterward about where we would most want to be brought up, if we were babies. We both liked the Mongolian baby's life – he lived in a yurt, surrounded by animals. The Namibian mother was the most attentive. She naturally integrated her baby into everything she did. The Japanese and American babies lived in cities, and their surroundings were largely artificial. They went to exercise classes and attended group singalongs about being in touch with Mother Earth. Meanwhile, the Mongolian baby crawled naked over stones.
Here's the trailer.
Anyway. It was a good movie and a terrific deal. On Tuesday nights, the Empire Theatre (in the World Exchange Plaza on Albert Street at O'Connor) charges $4.99 for a movie ticket (half the usual price). For $5.99 you can get a popcorn, drink and chocolate bar (that's half price too). And they throw in three hours of free parking, and all the air conditioning you can absorb.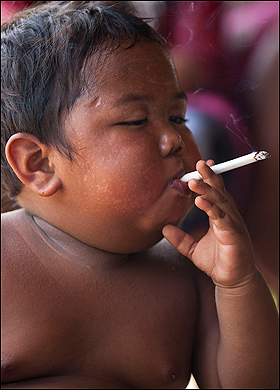 Speaking of babies, have you seen the pack-a-day two-year-old? Video and details here.