Remember I said I'd lost my community garden plot because I missed a key gardening meeting, and the notice said in big bold type that anybody who didn't attend or send regrets would forfeit their plot?
After three weeks of feeling bad and procrastinating about it, I finally picked up the phone yesterday and called the volunteer in charge of the garden.
"I know I missed that important meeting," I said, "But I'm wondering if there's any way I can redeem myself and get my garden plot back."
She seemed a little mystified.
"You still have your plot," she said. "It's still registered to you."
"But the notice said…" I said.
"Well yes, we do want people to attend the meeting," she said, "But we would never actually take your plot away from you."
I was so happy!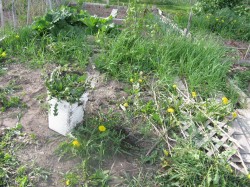 Late yesterday afternoon, GC and I headed over to the plot and spent an hour digging up grass and dandelions, and admiring the things that had sprouted back to life (raspberries, strawberries, lemon mint and chives). Our neighbour in the next plot gave us a few red Asian lettuce perennials, so we planted those too.
It was the most exercise I'd had in ages, if you don't count walking. My back was killing me, but in a good way, sort of.
Last year we bought the Square Foot Gardening book, so we're going to try that method this year. We'll have a 4×4 box in the middle of the plot, surrounded by a walkway, with perennials around the edges.
I also spent some time yesterday weeding my front garden – the Garden of Hope. I've got all kinds of surprises coming up there! (Bonnie – I think the Jack in the Pulpit came up – is it a single furled shoot-type thing?)
After all that gardening, we went to GC's house and he made us blueberry pancakes for dinner and we watched a movie about Leonard Cohen. It was a really good day.