I got an antique hobby horse, a four-volume creative writing course, a rabbit lamp, a bunch of books, some bright yellow rubber boots for planting flowers in, a bag of knitting needles, and three vintage children's books for a grand total of about $20. I was very happy with the day's haul.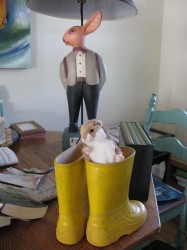 The rabbit lamp was the day's pièce de résistance. Before I bought it I was just another face in a sea of faces. But the instant I bought it, strangers started smiling at me and talking to me and telling me how lucky I was to find something so wonderful. Some guy stopped me to show me his Oscar Meyer Weinermobile, knowing we must be kindred spirits. Somebody even took a picture of me with the rabbit lamp, saying it personified the Great Glebe Garage Sale. I let GC carry it for awhile, and then everybody smiled at him and talked to him too.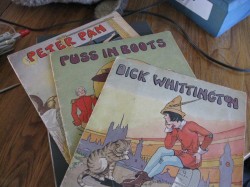 I got these three old children's books and a hardcover knitting book plus a bag of knitting needles and crochet hooks and two small knitting books for $2. I like people like that seller, who treat garage sales as an opportunity to get rid of stuff they no longer want, as opposed to opportunities to fill their pockets.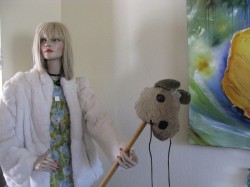 I purchased this antique hobby horse for a mere $5 from a woman whose children had been given it by an antique-loving family friend when they were little. Interestingly, there was another woman with a toy monkey that I liked, but she wanted $20 for it because it had so much sentimental value to her and her husband. Twenty dollars worth of sentimental value, apparently. I didn't buy it.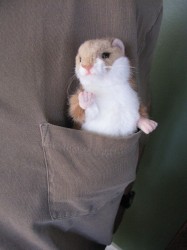 GC picked up this sweet little prairie dog for fifty cents, and two vintage fitness booklets from the Canadian Navy (5BX for men and XBX for women) for free. He'd actually been looking for these specific booklets for awhile. He says we will now be able to achieve peak physical fitness in just twelve minutes per day. My friend Felonius Monk's dad also swears by the 5BX plan. He included a chapter about it in his book of things he has learned about life from almost ninety years of living it.
(Speaking of Felonius Monk, he phoned me from a forest the other evening, where he and his girlfriend had stumbled upon a motherless baby fawn. He wanted suggestions on what to do with it. I gave him some phone numbers and asked him to keep me posted, but he never called back.)
---
Here are some of the things we did NOT buy yesterday:
You see that bear on wheels, behind the teddy bear? The one with the big hole in him, and the straw stuffing poking out? Yes, him. He's a Steiff bear, and the seller was asking $1500.
I did buy a couple of stuffed animals, but not these ones.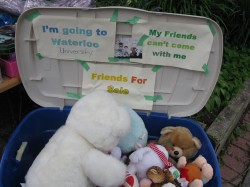 I didn't buy any mannequins or mannequin parts. But not because I wasn't tempted. GC reminded me of my diminishing house space and my desire to declutter, and then he dragged me away from the mannequin house. (Other people were dragging their partners away from the same house, because they had a vintage Harley Davidson for sale too.)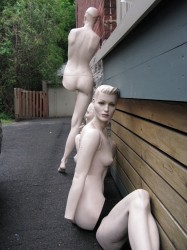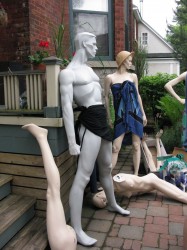 So…did any of you go to the Great Glebe Garage Sale? What did you get?

According to my pedometer, I walked 26,314 steps yesterday. That's about 20 km. I had an absolutely solid nap when I got home from the Great Glebe Garage Sale.