I was at GC's house, watching the lovebirds engaging in elaborate foreplay rituals, when the earthquake hit. At first GC and I just looked at each other as the noise and the shaking intensified, and then the realization that it was an earthquake dawned on us. I've experienced earthquakes before, but this one was stronger than the others. The birds, however, were oblivious to it, and The Dog seemed unconcerned.
I tend to be unnaturally calm in emergencies. Useless, but calm. Everything slows down, and since I can't control the outcome, I just float with it. It's the same thing when I've experienced a car accident and a home invasion. Just float. Don't panic. Slide, slow motion, into the future.
As soon as it was over, I remembered we should be standing in a doorway, so we went and stood in the kitchen doorway. Which felt a little silly, since it was already over.
"Let's go outside," I suggested, so we did that. All the neighbours were outside too, describing how it felt to them, which was more or less how it felt to all of us.
"Let's go listen to the radio," I said.
We went back in, turned on CBC and the TV and wondered why the media still seemed oblivious to it. Facebook and Twitter, on the other hand, were abuzz with first-hand reports and earthquake jokes already. My favourite was the tsunami warning for the G20's Fake Lake. (#fakelakequake).
Social media was way ahead of mainstream media on this one. After about 20 minutes or so, media reports started trickling in. Which isn't bad, really, considering they'd been evacuated from their buildings and had to verify information and so on, but still, it felt like they were late to the party. And even then, the TV stations were getting much of their footage from youtube. I'm still used to the olden days when we got our news from the media, rather than the other way round.
The City of Ottawa, straggling onto Twitter at 3:57, looked a little lame announcing the earthquake fully two hours and 16 minutes after it happened. Sometimes it's better to say nothing than to announce the occurrence of an event that everybody else already been talking about for hours.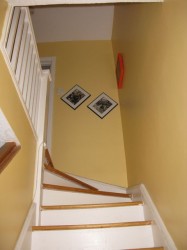 Four hours after the quake we left GC's house and came to my house, which is about 7km from his. That's when I discovered that the earthquake was not felt uniformly across the city.
My house looked like it had been shaken by a giant fist. We ran from room to room, quickly surveying the damage while looking for Duncan. The second floor was the worst. Pieces of furniture had moved away from their walls. Things had fallen. In my bedroom, I have a dresser and hutch. The hutch had fallen to the floor, spilling the contents of all its shelves.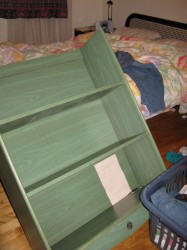 We ran back downstairs, thinking Duncan must be in the basement. Poor guy. We met him coming up from the basement, looking for us, keeping low to the ground, shaking. He was so traumatized. I scooped him up and cuddled him and stroked him and told him everything was okay. I can only imagine how terrified he must have been as things came crashing down all around him as he ran through the house.
After a few minutes he was feeling much better, and we went upstairs to tidy up. Miraculously, my procrastinating ways had saved some of my treasures. In my bedroom, there was a basket of clean laundry in front of the dresser. Also, the bottom dresser drawer was open. When the hutch went flying, almost everything on it – from framed pictures to cast-iron pigs – landed either in the open drawer or on the clean laundry. As a result, there was very little breakage.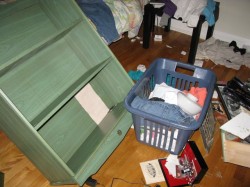 (This reminds me of another case where procrastination saved the day. Eric Yardley, who owns Yardley Antiques, had been procrastinating about installing his new fire extinguisher in his home. He'd bought it and left it on top of his dryer for weeks. One day while both he and his wife were at work, the dryer caught fire, eventually causing the extinguisher to explode and put out the fire.)
Anyway. That was my experience of the great quake of '10. How was yours?
---
Other things we did yesterday:
1) Attended the Grand Opening of The Oaks
2) Watched lovebirds having sex
3) Sat in the rain at the Jazz Festival waiting for a delayed concert to start, and finally left.