Penny sent me this picture yesterday – she said it reminded her of me the instant she saw it. I absolutely love it. She found it on this site, but there's no information about how to buy it.
I MUST HAVE THIS CHAIR! I WILL STOP AT NOTHING TO MAKE IT MY OWN!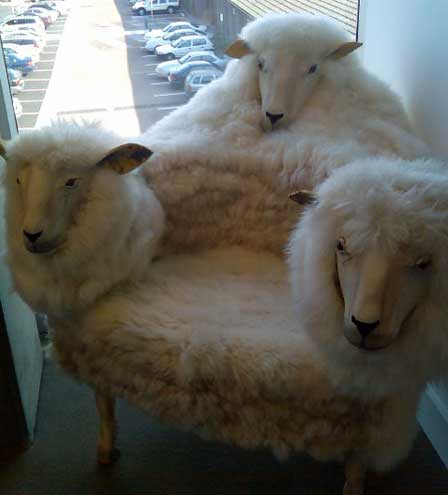 ---
In other news, we've got a crazy busy weekend coming up. There's the New Art Festival (formerly known as Art in the Park), the Christie Lake Kids Canoe Race fundraiser, Open Doors Ottawa, a volunteer gig at the Shepherds of Good Hope, the Fletcher Wildlife Garden Plant Sale, and my brother Graham, a long-distance trucker from BC, is passing through Ottawa in his 18-wheeler on Sunday, so we're going to try to get together – I haven't seen him in years.
It's kind of ironic that Graham ended up being a trucker. He and I hitchhiked from Vancouver to Ottawa together when I was 18 and he was 19. At one point we caught a ride with a trucker in an 18 wheeler who said he needed to sleep a couple of hours outside a Husky truck stop in Brandon, Manitoba. While I was in the washroom the trucker locked Graham in the back of the truck and then, when I got back, he attempted to rape me in the cab. I was screaming and fighting and Graham was hollering and kicking the back door. Several other truckers got out of their trucks and came over to find out what was going on. The trucker let us go and threw our stuff out in the parking lot, while acting like we were nothing but trouble and shouting "I'm never picking up any goddam hitchhikers ever again!"
I hope he didn't, but he probably did.
Anyway, have a wonderful weekend everybody, and if you know where I can get that sheep chair, please tell me!