Okay, time for the weekend roundup of things to do.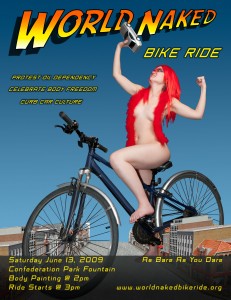 The Naked Bike Ride, Saturday, 2:00 pm, Confederation Park. You can strip down and join the naked bike parade as it winds its way through the downtown core. If being entirely naked isn't your thing, you can wear body paint. Or skimpy clothing. Or you can do like the rest of us and just take pictures. The naked bike ride is a worldwide phenomenon and is intended to protest oil dependency, celebrate body freedom, and curb car culture. But it's easy to forget all that in the face of so much nakedness. Here's my post from last year's ride.
Saturday is also Worldwide Knit in Public Day. (For those who can't decide between the naked bike ride and knitting in public, how about knitting naked in public?)

Propeller Dance is performing tonight and tomorrow tonight at the Arts Court Theatre. I haven't yet seen them, but I hear they're amazing.
Westfest, a free three-day music festival on Richmond Road starts this evening.
The Orleans Artists Studio Tour takes place Saturday and Sunday in – you guessed it – Orleans.
This weekend is also the annual BUSFUSION camping meet-up in Almonte – over 200 Volkswagen buses and campers and their people will be attending. For more information call Mike Cuff at 613-432-7181 evgs or email Mike at economan@hotmail.com.
There's a Granny Walk leaving Parliament Hill on Sunday at 10 a.m. for a 3 or 5 km walk. The walk is sponsored by the Grandmothers to Grandmothers Campaign in support African grandmothers raising orphaned grandchildren, and the Stephen Lewis Foundation. (More information: 613 730-6442)
And last but not least, GC's parents are celebrating their 56th wedding anniversary on Sunday!
If you know of other interesting things to do this weekend, feel free to add them in the comments.