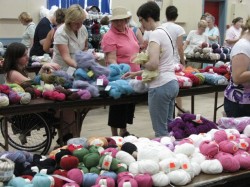 The Janie H. Knits sale was wild. It filled a great big room the size of a gymnasium at the Perth Legion. I found myself stroking yarn and oohing and aahing with hundreds of other women and three men.
We ran into Carmen and she nudged GC along, encouraging him to dive into the whole yarn-buying experience. He ended up with six skeins of yummy cashmere. Carmen also helped me get unstuck. I was wishing I'd come armed with a pattern, so I'd know what to buy and how much. But she taught me how to really buy yarn. You don't need a pattern, you just go with your instincts!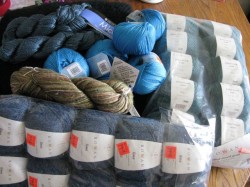 Here's what me and my instincts bought:
10 balls of Rowan Lima, 10 balls of Rowan Felted Tweed Aran, 6 bals of Rowan Siena, 2 skeins of Berroco Mica, one skein of Tilli Tomas silk & kelp, and a gorgeous mohair sweater made in Newfounldland by Woof Designs.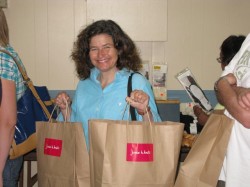 What is it about yarn that makes us crave it so much? I have enough yarn to last me many years – possibly even the rest of my life. So why do I want more? And why, when I do buy yarn, can I not buy just a little?
It's not just me, either. Most of the knitters I know hoard yarn. If you google "yarn stash" or "yarn addict" you'll see what I mean.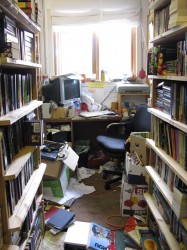 On the way back to Ottawa, we stopped in Carleton Place for lunch and a visit to that wacky used-book store. It's a whole house stuffed full of books to the rafters. It's kind of expensive for a used book store, but I guess that's how they manage to have so much stock. I think they might have a bit of a hoarding problem too.
In other news, it's been a tough week for friends' pets. R.I.P. Bongo and Ramona. Get well soon Muffy. Let's all give our pets a little extra loving today. ("And a little extra tuna fish" adds Duncan, "since it's Tuna Fish Tuesday.")