I haven't blogged for a few days, so this is just going to be a little catch-up post.
Here are some of the things I've been doing lately:
Reading. A lot. I've been a little scattered on the reading front for the past year or two, since I always had half a dozen books on the go, and I found myself frequently having to start books over since I couldn't remember what was going on. A couple of weeks ago I decided to stop doing that, and focus on just two books at a time. It was a good decision. It made the whole reading process much more efficient and enjoyable. I've also resurrected my Good Reads account. (It's over there in the left sidebar if you're interested in joining – I'm looking for more GoodReads friends.)
The CAT Walk

Yesterday GC and I went on the
Centretown Artists Tour
. The CAT Walk. We wandered throughout Centretown, visiting artists in their studios. It was a lot of fun. It's not just about seeing their art, but also about seeing their homes. Artists are creative by nature, and they create creative spaces. I love Meaghan Haughian's place, and her art, so we started there. Her place inspires me to start creating again.
I bought something on the tour – a pottery leaf from Cynthia O'Brien. It was only $2!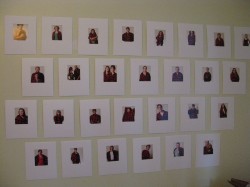 At Tom Evans' place we were pleasantly surprised to discover that photographs of GC and me were part of his exhibit. Last year on the tour, he invited people to try on the lumberjack jackets and let him photograph them. A number of those photos became part of this year's exhibit, including ours.
Montreal
We went to Montreal on Saturday, just for the day, to visit GC's family. We helped move some furniture from GC's brother's house to his parents' house. During that little excursion I saw this very strange house that didn't quite look like a house. GC said he remembered when it was built, back in the 70s, and everybody hated it. There were rumours that it had its own bowling alley. We took pictures of it, and looked it up on the internet after we got home. It's currently for sale – all 9,000 square feet of it. No bowling lane, but there's a huge indoor pool. Anyway. For $3.1 million, I think it oughta have a better
MLS listing
with better pictures.
Job Hunting
I got my English writing test results back for that government job. I got 106 out of 112 – yay me! I should find out in a couple of weeks if I passed the situational judgment test – if so, then I advance, I guess, to the next level of getting a government job. Meanwhile, there's a non-governmental job that I'm applying for today that sounds really good. If you've ever been job-hunting, you know how rarely the ideal job comes floating by. Fingers crossed.
Mystery event
Anybody want to hazard a guess, based on these three photos, as to which event we attended?