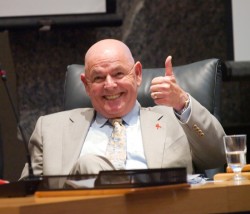 So what did y'all think of Mayor Larry's confession that he was a lousy mayor? I thought it was an unusual campaign tactic. Basically he's saying "You know what, I realize I sucked as a mayor, but I've learned from my mistakes, so I'm asking you to give me another chance."
Part of me wants to commend him for owning up to his lousiness. But then he talks about himself as if he's two different people. He says the Old Larry was a lousy mayor but the shiny New Larry is a good mayor and we should trust him. To me it's all the same old Larry. You can't just blame your mistakes on the person you used to be and pretend it's not really you.
Don't get me wrong. I'm a big believer in second chances. But not when it comes to handing over our city and billions of dollars and all our community services and thousands of innocent civil servants. These are not just toys in Mayor Larry's sandbox – these are things that actually matter to us. Besides, we only get one chance every four years to throw a lousy mayor out of office, and we're not going to blow it just because he admits he's lousy and wants a chance to try to be less lousy.
Incidentally, now that he's floundering in the polls he's starting to sound a little desperate. He's coming up with explanations for his sorry standing, some of which border on the paranoid. He accuses Andy Haydon of being in cahoots with Jim Watson and throwing his hat into the ring just to syphon off some of Larry's votes. (Which makes about as much sense as Clive Doucet being in cahoots with Larry, and throwing his hat into the ring just to syphon off some of Watson's votes.)
Also? I think it's awfully cowardly of him to decline the invitation to the mayoral debate tomorrow night. This debate is about social issues like child care, housing and bus fares, and his refusal to participate speaks volumes. He's a multi-millionaire who doesn't live in the real world with the rest of us. Remember, this is the mayor who compared homeless people to pigeons, saying if we stopped feeding them they'd go away.
The debate is called So You Think You Can Mayor, and it's taking place at 7:30 Thursday evening at the Bronson Centre (211 Bronson Avenue). Kathleen Petty, host of CBC's Ottawa Morning, will be moderating it. I'm looking forward to it, and I hope Mayor Larry shows up.
---
Check out Coyote's posts on the same subject over at the Elgin Street Irregulars. That wily coyote is always a step or two ahead of me!