You know what I'm not good at? Exercising authority. For example, when GC and I are volunteering in the art program with the kids, I can't tell a kid to stop jabbing his buddy with his pencil and focus on his work. I can only suggest it. I can give him reasons why jabbing isn't good and focusing is. But I can't bring myself to actually tell him what to do.
It was the same thing with my own son when I was raising him. I rarely ordered him to do anything. I suggested, and he negotiated. Fortunately for me, he was a pretty easy-going kid who didn't take outrageous advantage of me. But I remember a birthday party where the kids were bouncing off the walls, all fired up on cake and icing, and I was gently suggesting that they not jump on the couch and not climb on top of the fridge. It turned out they weren't nearly as suggestible as my son. They didn't get off the fridge until they either felt like it or their mothers arrived and physically dragged them off.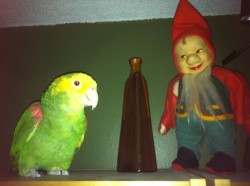 I see the same pattern emerging with Kazoo, the double yellow-headed Amazon parrot. All the books – and even some readers of this blog – have said it's very important in the early days to establish my dominance, so that both Kazoo and I understand that I'm the boss. So far (we're still in the so-called honeymoon period, so this could change) Kazoo seems like a remarkably mellow and laid-back bird. So it should be easy to assert my dominance over him, right?
For birds, dominance is closely related to height, so I have the advantage there – I'm quite a bit taller than him. But he spends most of his time on top of his cage, which makes him quite a bit taller than me. I tried putting his perch on the coffee table, but he kept flying back to the top of his cage. So I ended up (after a brief and half-hearted power struggle) deciding that if it was that important to him, he could stay on top of his cage. After all, he feels safer there, and he needs to be a lot higher than Duncan.
(Speaking of flying, it looks like a major effort lifting that big body into the air and flapping those wings, so he doesn't do a whole lot of it.)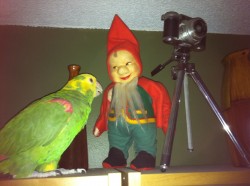 The only other arena where we struggle for dominance is the top of the bookcase. He likes it. It's about two feet from the top of his cage, so he flies there about twenty times a day. I don't want him there, because he eats the bookcase and poops on it. He also nibbles on the birdhouse that contains my grandfather's ashes, and shows some interest in eating that Dwarf. So I remove him from the top of the bookcase about twenty times a day. It will be interesting to see which of us gives in first. And it'll be interesting to see what happens when his true colours emerge, after the honeymoon period ends.
I just hope that when he seizes the reins of power, he doesn't boot me and Duncan out onto the streets.