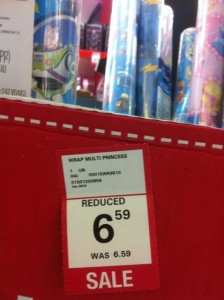 GC and I went out boxing day shopping yesterday afternoon, just to see what it's like. We went to Carlingwood Mall, but we didn't buy anything. We couldn't figure out what all the hoopla was about – the sale prices didn't seem all that spectacular to us.
Christmas was pleasant and peaceful. I ended up doing a little bit of Christmas decorating after all – I put a Santa hat on a mannequin. My son came over and he and GC and I shared a delicious turkey dinner with all the fixings. The 5-second rule had to be invoked because all the white meat ended up briefly on the kitchen floor. Duncan was delighted.
Tonight we're having a second Christmas dinner with some of my siblings from out of town. (All of my siblings are from out of town, actually…but some of them are coming for dinner.) It'll be roast beef with all the fixings.
Update: My siblings are dropping like flies. Bone infections, stomach flus…