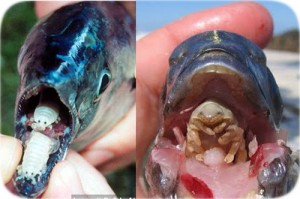 I was out walking the other day, listening to an old episode of This American Life, the theme of which was parasites.
There was a story about a parasite called an isopod that enters a fish's mouth (a snapper, to be precise), and devours its tongue. Then it turns around and sits where the tongue used to be, facing outward. Apparently it looks kind of tongue-like itself, so if you were to peer into the snapper's mouth, it would look like he had a tongue with eyes. The parasite spends the rest of its life doing the work of the snapper's tongue, while sharing a portion of the snapper's food. Is that freaky or what?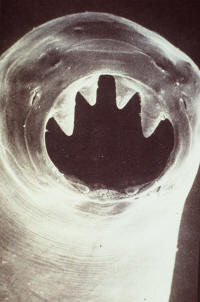 But that was just the warm-up. Then there was the story of Jasper Lawrence, who sells hookworms which he harvest from his own poop.
He went to great lengths to acquire his hookworm infestation in the first place. He had all kinds of debilitating allergies that were ruining his life, and he found out that people in third world countries have very few allergies, as do people who have hookworm infestations (there's a great deal of overlap between these two populations).
He became so convinced that his only hope for a life without the misery of allergies and asthma was hookworms, that he went to Africa (Cameroon, I think) and walked barefoot through the festering latrines of twenty or thirty villages. He said it was absolutely the most repulsive thing he's ever done. The stench, the sound of the insects buzzing, the hundred-degree heat, the humidity, the human waste oozing between his toes…
Then he returned to the States to wait for Spring to see if he was cured.
And lo and behold, he was!
He then dedicated his life (and his excrement) to saving others from their debilitating allergies and asthma. He believes hookworm therapy (helminthic therapy) may also be helpful for sufferers of other auto-immune disorders, including Crohn's disease, arthritis and multiple sclerosis.
Jasper says harvesting the hookworms is not that big a process, since the hookworms just 'walk right out'. He cleans them up and Fedexes them to his clients. At the time of the original broadcast, he had shared his hookworm infection with approximately 85 people. Since then, the FDA investigated him and found him to be in violation of some laws, so he fled the US and is operating his business elsewhere.
I know it sounds like a wacky and repulsive thing, but before you write Jasper off as a complete quack, you should know independent scientific research isn't writing him off just yet.
So…If you'd like to buy some hookworms, his website outlines the process. But I couldn't find the price anywhere on his site. I guess if you're sick and desperate enough to purchase a worm infection, you're probably desperate enough to pay a lot of money for it too.