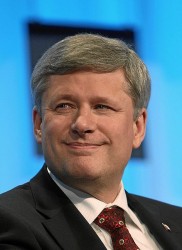 Last night Duncan and Logan and GC and I all headed over to GC's house to eat pizza and watch the debate, since he has a TV.
What I can't figure out is how any thinking person who pays any attention to what's going on in this country could bring themselves to vote for that ugly Stephen Harper* and his Conservatives.
Harper says everything in this placating, condescending way, like he's the mature one and everybody else is just being childish, but nothing he says stands up to the facts. If he doesn't like the facts, he just dismisses them. I couldn't believe how many times he responded to questions or accusations with "That's simply not true."
Obviously he believes his strength is economic policy, because he kept coming back to that, but his spending on jets, prisons and corporate tax cuts is wildly out of control. The only thing that's kept him halfway in check for the past five years is that he's hamstrung by a minority government. God help us if he gets a majority this time round.
I just don't get it. Why do people vote for him?
---

*Ok, maybe it's not nice to pick on his looks, but he's got sideways hair, almost invisible eyes, a creepy smirk, and he looks like he belongs in a wax museum.