Dogcat
. Half dog, half cat. Right from Day One. He was dog-sized, and he'd come when he was called, and he'd shake his whole body vigorously like a dog, and he'd lick my face, and you could hear his footsteps coming down the hall, thump thump thump.
We slept together from the very first night. We shared a pillow, cheek to cheek, and held hands. Our relationship was pretty much ideal, except for one bone of contention: Duncan wanted to go outside, and I wouldn't let him.
I got him in January and he had no interest in going outside in the wintertime, so this problem lay dormant until Spring, 2008. Then, whenever I was going out or coming in, he'd seize the opportunity to stick his nose out the door and assess the weather. As things warmed up, he tried squeezing past me to get out.
I wouldn't let him. I was convinced somebody out there wouldn't be able to resist him because he was such a wonderful cat. They'd steal him. Or he'd get lost. Or he'd get run over. Or a psychotic cat torturer would get him.
It was strange though, because I've allowed every other cat I've ever had to go outside. I always considered it part of an authentic cat life. My country cats loved climbing trees and playing Tiger in the Grass, and my city cats were kings of the urban jungle. But not Duncan. I wouldn't let him.
I was convinced he'd give up eventually, but he never gave up. I stuck to my guns for two and a half years. And finally, this past Fall, I started relenting, bit by bit.
He really, truly loves it. We live in a townhouse, and he stays close to home. He doesn't cross streets. He has a healthy respect for traffic, and is afraid of trucks. He's usually out back in the parking lot, or keeping watch over his kingdom from the top of a wooden fence. He uses the network of neighbourhood fences as his highways.
I'm seeing even more of his dogcat nature now that he goes outside. For instance, every evening, GC takes Logan the Dog for a walk around the neighbourhood. Duncan likes to join them. He walks about ten paces behind them.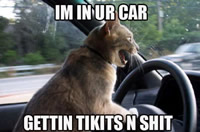 And lately he has taken to jumping into the car. All my other cats hated cars. Last night Duncan went for a drive with us. He was in the back seat, standing on his hind legs with his paws on the door, looking out the window at the world speeding by. I'm sure if we'd opened his window he'd have stuck his head out, with his tongue hanging out and his ears flapping in the wind.

GC has promised to teach him how to drive when he's sixteen.

Ever since I adopted Duncan from the Humane Society, I've referred to him as a