This morning my friend Grace shared a link to an article by Lisa Bloom called How to Talk to Little Girls.
In it, Ms. Bloom acknowledges her first instinct when meeting little girls is to tell them how cute they are, since they generally are awfully cute. But she doesn't allow herself to do that, because it would teach them that their looks are the first and most important thing that people notice about them.
The problem with that, she says, is this:
"This week ABC news reported that nearly half of all three- to six-year-old girls worry about being fat….Fifteen to eighteen percent of girls under twelve now wear mascara, eyeliner and lipstick regularly; eating disorders are up and self-esteem is down; and twenty-five percent of young American women would rather win America's Next Top Model than the Nobel Peace Prize. Even bright, successful college women say they'd rather be hot than smart."
When Lisa Bloom meets a little girl, instead of telling her how cute she is, she asks her what books she likes, and then they have a conversation based on her thoughts and ideas.
I find this very interesting.
I'm a feminist, always have been. I've read and discussed lots of feminist philosophy. But recently I realized I'm just as guilty of gender bias as someone who has never given it any thought.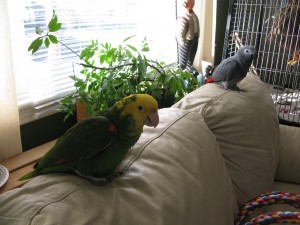 Remember when I got Kazoo, my Double Yellow Headed Amazon parrot? Nobody knew whether Kazoo was a boy or a girl, since birds don't have external genitalia, and there are no visible differences between the sexes in most parrot species. But Kazoo's previous people assumed he was male and referred to him as "him" so I did too.
Four or five months after I acquired Kazoo, I took him to the vet for a checkup, and had him DNA-sexed. Turned out he was a girl.
Here's where we get to the weird part. Once I knew she was a girl, I found myself thinking about her differently, talking to her differently, and treating her differently. For example, I often tell her what a pretty bird she is, and what a good bird she is, and how sweet she is. (I tell my boy birds they're pretty and good and sweet too, but not nearly as often. I'm more likely to tell them that they're smart and funny and brave.)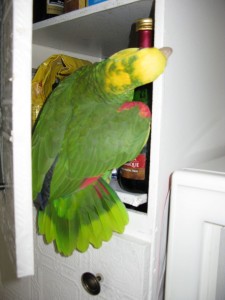 Another example: When I thought Kazoo was a boy, and he'd do things he wasn't allowed to do – like eating the bookcase – I'd think he was being daring and mischievous. Now that she's a girl, I find myself thinking she's just doing it because she wants me to pick her up and cuddle her.
I catch myself committing these acts of gender bias, and I try to stop because I realize if I do it with birds, I almost certainly do it with children. And I do believe, absolutely, that children are shaped and limited by sexism. (Birds perhaps less so.)
Don't you think it's strange that I continue to do these things even though I know better?