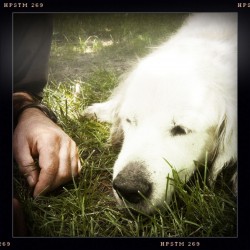 Logan the Dog died yesterday afternoon. We'd known for the last six months that this day was coming – the writing was on the wall – but it still seemed to come too soon, too abruptly. That whole thing about one human year is the equivalent of seven dog years, it means that dogs age and deteriorate very rapidly once they start. All you can do is watch helplessly, and keep paying the vet bills and hoping for the best.
In Logan's case, it started with the diabetes diagnosis in February, accompanied by lethargy and weakness and a stretch of vet visits.
He went blind. He still had a little peripheral vision, but he was mostly blind. And he was still lethargic. He'd lie around all day and barely have the energy to go for a pee. But some days were better than others. Some days we half convinced ourselves he was getting better.
One evening, a few weeks ago, he peed blood red. It wasn't blood-tinged urine; it looked like he was peeing pure blood. You see something like that and your knees almost buckle. We rushed him to emergency, where they did some tests. Based on the test results, the vet said he was ruling out the more common and benign possibilities, like infections. The next step would be to look for something "more sinister."
But the next day GC took him to his usual vet, and she looked over the test results and said she thought it might be an infection. She put him on antibiotics, and things seemed to improve. He started peeing urine instead of blood.
Yesterday morning, he was sick. He didn't want breakfast. He was very thirsty, but he threw up his water. GC went and got him some pediolyte solution, but he threw that up too. He just lay in GC's back yard for hours. We sat out there on the grass with him. If we held the water bowl and lifted his head, he would drink gratefully. His tongue was white, but it would return to pink while he drank.
In the afternoon we took him to the emergency vet. Peter and Julia helped carry him to the car on a blanket. The vet techs met us at the back door of emergency with a stretcher.
The vet, Dr. Betty Szyngiel, is a lovely woman. Compassionate and practical. She told us his blood sugar was off the charts, his pulse was rapid and irregular, he was anemic and extremely weak. She didn't know exactly what was wrong with him without doing expensive diagnostic tests, but whatever it was, it was bad. Her best guess at this point was a bleeding tumor. Cancer.
She was very supportive of GC's decision to euthanize Logan.
Logan died at 4:45 Sunday afternoon, while we wept and stroked his head and told him what a good dog he was.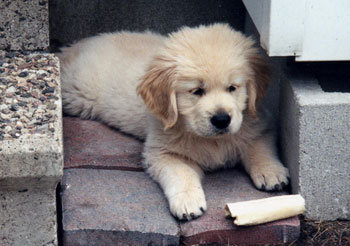 And he was. He was a sweet and gentle boy with big brown eyes and beautiful long white eyelashes. He had the cutest face and the most wonderful disposition. All his neighbours loved him. Little children adored him. Whenever they asked what kind of dog he was, GC always said he was part Golden Retriever and part teddy bear.
He and GC knew each other so well and loved each other deeply. They had a good twelve years together. Life expectancy for Goldens is 10-12 years, so they squeezed as much time as they could out of life. But it's never quite enough, is it?
Rest in peace, Logan…Logie, Mandingo Warrior, Legolas, Shmelly, Mr. Canogie. If there's a heaven, I know you're young again and running free in fields of dandelions, and there's always cheese and oatmeal for breakfast, and peanut butter for lunch. There's no thunderstorms or fireworks, no salt on the sidewalks, no visits to the vet, no need to have your ears cleaned. There's all the time in the world for checking out interesting smells and taking naps and waiting for squirrels to come back down out of the trees you chased them up into.
You were a good boy and we're going to miss you a lot.