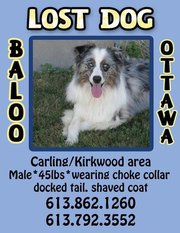 I've been looking for Baloo, a half-groomed lost dog this week. He's a rescue dog. The Rescue had him at the groomer's to get his matts cut out. Poor little guy ran off from the groomer, just as a customer was opening the door. He scooted out the door and he's been missing ever since. He was last seen running across the parking lot of Hampton Park Plaza on July 31.
I went out and wandered the back streets of that neighbourhood, trying to think like a dog on the lam, which was actually a lot of fun. But I didn't find him.
Today I had breakfast with my friend Donna, and as I was walking home afterward, I spotted a dog on the loose, making his way down Laperriere. I ran to catch up with him. It wasn't Baloo. Baloo is part Australian Shepherd and has striking blue eyes. This guy was a Whippet. Beautiful dog, obviously well cared for, but alone and lost.
He was getting dangerously close to Merivale Road, and I didn't want to see him get smushed, so I took him by the collar and led him to a shady spot, where we sat ourselves down in the middle of the sidewalk. I patted him and spoke to him in Universal Canine Language: "Good Dog," I said. "Good Boy."
Then I called 311 and waited on hold for five minutes. An operator told me that she would dispatch Bylaw. I asked how long it would take, but she had no idea.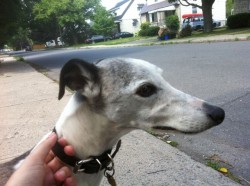 While we waited I talked to him, petted him, smelled him, inspected him and kissed him on the nose. He was really clean and smelled good, and his claws were all nicely trimmed. He was cooperative and gentle, but I could tell he had things on his mind. He wanted to go home.
I was impressed by how quickly Bylaw was able to resolve this dog's problem once they arrived. They radioed in his tag number, and moments later a woman's voice came crackling back "His name is Solo, he's a grey and white whippet and he lives at this address." It was just a few blocks away, next street over. The animal control officer, Cathy, slipped a leash around his neck and asked him if he'd like to go for a ride. He cheerfully hopped into her van, and she drove him home.
I never had my dog licensed, because it just seemed like an opportunity to spend money without getting anything in return. But having witnessed this today, I think I'll get my next dog licensed.
In the meantime, if you happen to see Baloo, the shaved shepherd running around, please call (613) 862-1260.