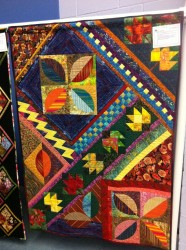 GC and I decided to have a special Quilting Weekend last weekend. This meant that our whole weekend would revolve around quilting-related activities.
Saturday morning we went to Perth, for the Quilts on the Tay show. Perth is just a small town, so we figured it would be a small quilt show. But no! It was huge and magnificent, with one exquisite quilt after another for us to feast our eyes on.
Perth has a rich tradition of hand quilting, and there are all kinds of hand-quilting purists there, who are almost morally opposed to machine quilting.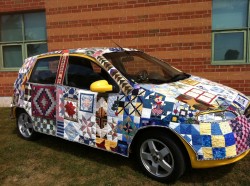 The highlight was seeing the quilted car cozy in the parking lot. Is this not fantastic? We took pictures on the way in, and then on the way out we ran into the woman whose car it was. Mary was every bit as interesting as we knew she would be, because ordinary people do not do things like this.
After the show we went to the fabric store in Perth, which was better stocked than Fabricland here in Ottawa. One must never underestimate small towns with rich traditions. I want to move to Perth.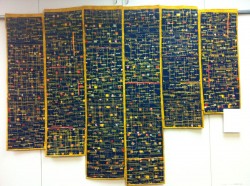 We stopped in at The Running Stitch in Kanata on the way home. It's the quilting store where we took our course. We really like the people who work there, and they treat us like we're special. They're especially fond of GC, since he's one of only four male customers. Male quilters are considered a rare and exalted breed by female quilters, who all think it's hot, which it is. This quilt, incidentally, was made by a man. It's a circuit board.
GC bought fabric to make a quilt for his son, who is moving to Alberta for school. Everybody got in on the Choosing of the Fabrics.
We got home around suppertime and took care of all the animals and sat down. We were planning to go to a party, but we were both zonked and headachy. Instead we just hung out and looked at quilting books.
Sunday morning we had big plans, but life got in the way. My fridge was dead. It had been dying for a long time: leaking water, making popping noises, stuff like that. I skimmed a few online articles about how to buy a new fridge, and headed off to Sears. My new fridge is being delivered on Wednesday afternoon.
We transferred a bunch of stuff from my freezer (mostly the bird food that I make in bulk) to GC's freezer. Then we got back on track with Quilting Weekend.
We drove to Vankleek Hill, and did a very quick tour of their quilting show, then continued on to Montreal, where we delivered a table runner that GC had quilted for his mom. She loved it, and it looked gorgeous on her table.
We visited for a bit over bowls of fruit and yogurt, and then drove back to Ottawa.
We wanted to go to the parrot meeting in the evening, and then to the Elmdale Tavern to see Andrea Simms-Karp's show, but we were both zonked and headachy again. So we just hung out and looked at quilting books.
Here are some photos from our Most Excellent Quilting Weekend.