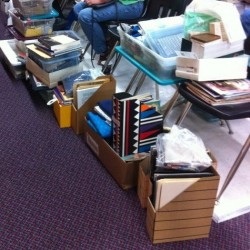 I got a little carried away Thursday evening at a quilting auction in Perth.
Elva Jackson, a quilter from the Lanark County Quilting Guild, died last year and her husband donated her fabric stash and quilting books to the Guild for auction. The proceeds went to Dignity House.
I bid early and I bid often. I won the very first lot for $5. By the time the evening was over, I had a big long line of boxes and bins, I was $157 poorer, and people were laughing at me.
I was bidding blind most of the time. Even though I attended the preview, none of the lots were numbered. Once the auction started, one box looked just like another. You could see that there was fabric and books in the lot, but other than that, it was pretty hard to know what you were bidding on exactly.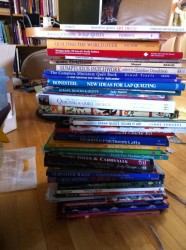 But…since I'm really into fabric and books, and I'm an incurable optimist, I got carried away. I ended up with 44 quilting books and a bunch of bins of fabric, a bin of quilting needles, a pair of fabric shears, a bunch of unfinished quilting projects, templates, tools, bias tape, magazines, binders of design notes and quilting inspirations, and a lot of scraps. My haul filled the trunk and the back seat.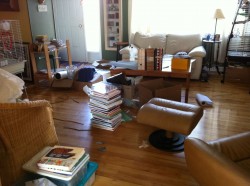 Once I got it all home, I started digging through it. There were some happy surprises and some not-so-happy surprises. I had to be careful, though, because I found myself starting to develop sentimental attachments to things I didn't even like, just because they were Elva's, whom I didn't even know. It was the strangest thing. I would look at a carefully hand-drawn and labeled template and I'd think about the time she spent drawing it and thinking about it, and I'd start to feel it would be wrong to throw it out. It should be preserved for all eternity because she had died. Is that crazy or what?
I looked up her obituary and it said, among other things, that "to know her was to love her." I saw a picture of her. I read her quilting notes, and the postcards she'd saved. I started to feel like I knew her.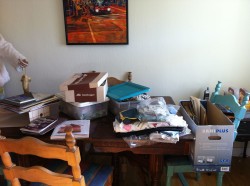 I remember reading an article written by a professional organizer who worked with people who had hoarding issues. She told the story of one woman whose house was almost like an archeological dig. There were layers in it. Basically, she'd had her own house, which was well organized. But then someone close to her died, and she acquired all this person's stuff. She couldn't bring herself to get rid of anything, so she arranged it all on top of her own stuff. And then someone else died, and again she did this. As the professional organizer dug deeper, she realized that under all these layers of other people, was a very well organized life.
I was in danger of doing this with a complete stranger's stuff. Not only that, but I was about to incorporate her clutter into my own clutter, at a time in my life when I'm trying to declutter!
In the end, I kept most of it, but I forced myself to throw out a bunch of stuff that I knew in my heart of hearts I would never use and probably nobody else would either. I have another box of stuff that other people might want. Do you want anything?