The Swap Box
, and all-round nice guy and gentle soul, died on Thursday. I'm told that his body was found in the forest on Friday, and that he had committed suicide.
I'm shaken and saddened by this news. I didn't even realize he was depressed.
He came over just a few weeks ago and visited for a couple of hours. He and Oboe took a shine to one another and became instant friends. I remember saying to GC later that if I ever needed to find a new home for Oboe, Maks would be perfect.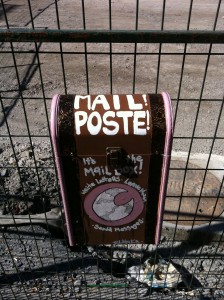 I gave him two boxes and a wooden mannequin as he was leaving, and within days he had turned one of the boxes into a swap box/mail box down in the Glebe. He left writing paper and note cards and envelopes in it so people could write letters and notes, so GC and I did that. (Ironically, mine said "Goodbye cruel world!" and then "Just kidding. It's a wonderful world.")
I wonder if he left a note.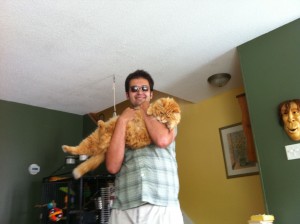 I know he was going through a rough time with some personal health challenges. He said he was going to have to change his plans and dreams accordingly. He was in his second year of a Masters in Urban Planning at McGill. He had a strong sense of social justice and wanted to work in disaster relief, re-building devastated cities. But he said he was coming to terms with the fact that his health issues weren't going to allow him to work in third world countries.
He mentioned a couple of other things that weren't going his way either. A job he was counting on fell through. Stuff like that. Nothing that suggested suicide, at least not to me.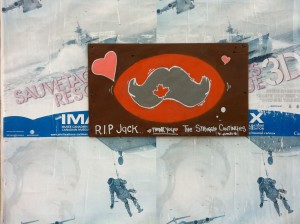 We talked about Jack Layton's death. One of his last pieces of art was a tribute to Jack.
I took several pictures of him that day. As he was leaving, he said I could post them on my blog if I wanted. He said I could use his real name if I wanted. He said he was no longer as private about his identity as he used to be.
The service will be held on Thursday. I don't know what time yet. I'll post details when available.
Rest in peace, Maks. The world is a better place because you were in it. You made a difference. I'm just sorry you couldn't stay longer.
---
"Love each other and the city we live in." Elmaks

""A very popular error: having the courage of one's convictions; rather it is a matter of having the courage for an attack on one's convictions." – Nietzsche (Maks' last words on his Facebook page)

Elmaks, local street artist, inventor of