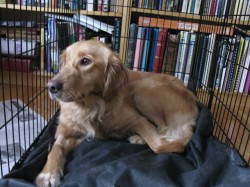 This is our new dog, Rosie, formerly known as Phoenix. We adopted her from the Humane Society today!
This wasn't actually the plan, as we were still in the running for Dexter the Boxer, who is a wonderful dog. His lovely foster mom, Jennifer, even brought him over for a visit on Christmas Eve. Loyal Rescue had narrowed Dexter's possible adoptors down to two families, and we were one of them. The next step would have been an official home visit from a different volunteer, and then a recommendation would be presented to the Board of Directors, who would decide which lucky family would get to adopt Dexter.
But this morning the Humane Society called and said they had a dog they thought we'd like to meet. And when we met her, we pretty much melted. She is such a sweetheart. They didn't know much about her, just that she'd come from a small town in Quebec, where she'd ended up in a 3-day shelter. (That means they have three days to find her somewhere else to be, or they euthanize her.) They estimated her age at two-ish. She's underweight, and has some mysterious old facial scars. She was fixed on Friday, and treated for badly infected ears. The adoption agent says although we have no way of knowing her history, she suspects she was neglected but not abused.
Rosie was so polite and gentle and lovable! But what about Dexter? We didn't know if we would be the successful candidate for Dexter, and what if we weren't? We'd have lost both dogs! We briefly considered adopting both of them, but realistically we don't have the resources for two.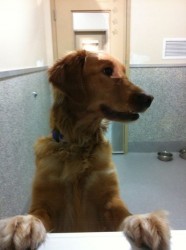 Karen put the dog back in her room while we walked around and thought about it and talked it over. And as we walked and talked, we looked in all the windows of all the rooms of all the adoptable dogs. Suddenly there she was again! She put her paws up on the window sill to look at us, and we just looked at each other and knew she was our dog. We felt bad about Dexter and Loyal Rescue, because they'd been so nice to us after the whole fiasco with the other rescue. But they were very understanding, and they were happy for us and for Rosie. And we know Dexter's going to a good home too, so all's well that ends well.
GC and I were both crying as we left the Humane Society with our new dog, that's how happy we were.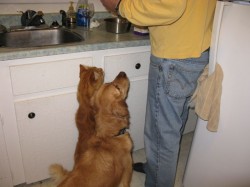 So far today we've introduced her to neighbours, visited Critter Jungle (where GC bought her some chew toys and a crate), visited Pet Smart (where he bought her some squeaky toys), and visited the pizzeria. She's met Duncan (they're a matched set, looks-wise, and they seem really good together already), and the birds (she's interested, but not in an aggressive way), and right now she's snuggled up beside me on the couch.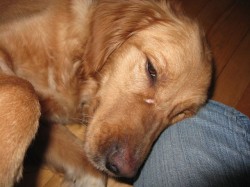 She's such a nice dog. We're not entirely sure what breed she is. The Humane Society said Golden Retriever, but several other people have suggested mixed breeds including Nova Scotia Duck Tolling Retriever, border collie, and red retriever. She's a nice size – 50 pounds – smaller than your average Golden. She needs a little fattening up, and lots and lots of good old-fashioned loving.