Here are some of the things, over the past few years, that GC and I have gotten up at the crack of dawn for:
Last night Duncan and I had a rare sleepover at GC's house because there was something special happening in his neighbourhood at 5:30 in the morning! We ordered Chinese food (last night, not at 5:30 this morning), drank wine, watched The Office, and went to bed relatively early.
GC was so excited he kept waking up during the night to ask me if I was awake.
At 5:00 he was finally sleepy, but it was time to get up. We couldn't be late because there was free coffee for the first 250 people, and besides, we like to be on time.
We rolled out of bed, stuffed ourselves into our clothes, fed Duncan, and headed out into the dark morning. We walked over to Ben Franklin Place to join the throngs of people who were there to see CBC Radio broadcasting live!
Did I say throngs? Well. Let's put it this way: We didn't have to worry about the coffee, because we got there before the coffee. Not only that, but we were the first ones there, not counting the CBC folk.
By the time they unlocked the door, our throng had swelled to three people: GC, me, and an enviably energetic and cheerful woman with a pair of skates slung over her shoulder.
The coffee arrived about 15 minutes later.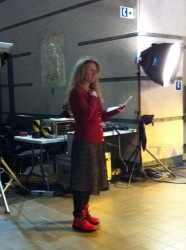 We were right there, mere feet away from the table where Robyn Bresnahan and Hallie Cotnam and Dave Brown were getting ready to start the morning show.
There was a band (David Francey) from Lanark playing live. (Here's a video that Robyn made and tweeted while we watched.)
There was a stylish producer with groovy red boots.
There was a whiteboard that mapped out the whole morning show, minute by minute. (They don't just wing it, you know.)
We drank coffee and took pictures, and at 6:00 we even got to meet Robyn Bresnahan and shake her hand. I have to tell you, I was impressed with myself for being awake and out and about at this time of day, but you should have seen Robyn! Not only was she awake and out and about, but she was groomed! And sociable! I was star struck.
By this time another blogger (Ross Brown, from The BrownKnowser), had arrived, and he gave Robyn his card. So I dug out a knitnut.net card and gave it to her. It's got the sheep on it and everything. Robyn said she'd check out my blog. (Just to see if she really does, here's a question: Robyn, do you actually finish work at 8:30 in the morning? Or is there an off-air component to your job?)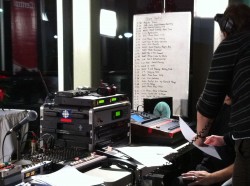 Anyway. CBC is broadcasting from Ben Franklin Place (101 Centrepointe Drive) till 6:00 tonight. Go on down there, check it out, touch your favourite broadcaster. If you make a donation to Operation Come Home, they'll give you an awesome Beau's Beer glass.