Our former mayor, Larry O'Brien, has managed to publicly disgrace himself once again. This time it was by being openly racist on his public Twitter account. David Reevely, of the Ottawa Citizen, blogged the details, including the follow-up exchange with O'Brien.
Now Larry has blogged about it, giving himself a big fat pat on the back for being so politically incorrect (or IC, as he inexplicably calls it).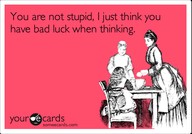 It never ceases to amaze me how deluded Larry O'Brien is. He sees himself – and tries to present himself – as some kind of politically astute free-thinking visionary, yet it's painfully obvious he's just a mediocre, racist, right-wing narcissist who isn't even bright enough to be embarrassed by his own embarrassing behaviour.