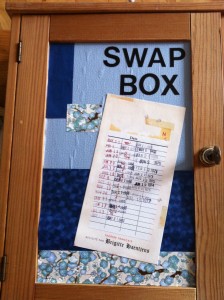 CCOC (Centretown Citizens Ottawa Corporation) wasn't just a nice place to work. It turned out to be a nice place to leave, too.
On my last day of work, they took me out for a lovely lunch and presented me with a swap box (!) filled with goodies like antique office supplies and a bird's nest candle and True Stories of Hope and Inspiration. They also gave me a genuine CCOC recycling bag and an honest-to-God CCOC plunger.
Whenever a new tenant moves into one of their apartments, CCOC gives them a housewarming gift, which includes a recycling bag, a plunger, a roll of toilet paper, a box of baking soda, recipes for making environmentally friendly cleaning supplies, a map of the bike paths, an OC Transpo map of Ottawa, a keychain, and a few other things. I felt like an honourary tenant, receiving the recycling bag and plunger.
(I actually was a CCOC tenant for a number of years, but that was before they gave out plungers and recycling bags. I do still have my original CCOC keychain, though.)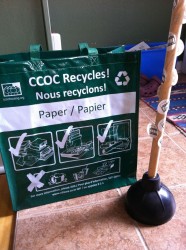 Fortunately I'm not leaving CCOC entirely. I'm going to continue to do a little work for them on contract, and I'm still a volunteer on one of their committees. I've always liked that organization, and the people who work there, and I like them even more now that I've gotten to know them better.  If you're looking for a place to work or an apartment to live in, I give them my very highest recommendation. They're the best. (They even give their tenants free flowers and herbs every spring.)
Also, in terms of local housing trivia, I think it can safely be said that CCOC has housed more bloggers than any other landlord in Ottawa.