There has been a cluster of cat deaths among my friends lately. Several good friends have lost beloved cats, and they're grieving. It doesn't seem to matter if the cat was old or sick or the writing was on the wall…grief is grief. It's hard and it hurts and my heart goes out to them.
Meanwhile, I've been keeping an uneasy eye on Duncan since his kidney disease was diagnosed last year, and especially since the vet said she suspected something else was going on with him. Something worse than kidney disease. Something bad.
Duncan has been losing weight ever since I adopted him. At first the vet was happy about it, since he weighed a ridiculous 25 pounds. But then she became concerned because it's normally very hard to get a cat to lose weight, and it was suspiciously easy in his case. Besides, he lost a lot of weight even though he was eating ravenously. At his December check-up, he weighed less than half of what he did four years ago.
Here's a picture of Duncan with his former vet in January 2008, right after I adopted him.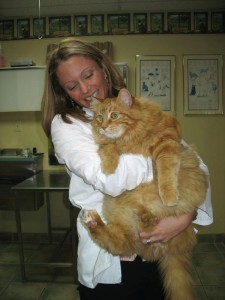 Here he is in late 2008, when he was the featured on the Elgin Street Irregulars blog for Tank Top Tuesday.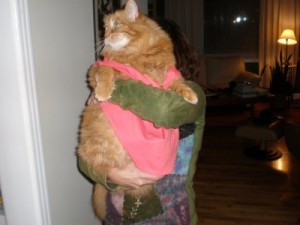 And here he is now: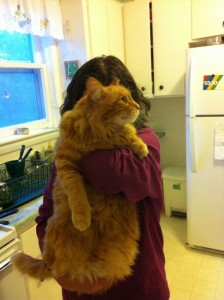 Last year, the vet switched his food and asked me to mix it with water to ensure he stayed hydrated. In December she prescribed a course of antibiotic/anti-inflammatory medication. And she had me give him regular Vitamin B12 injections. We were hoping these measures, together, would curb the weight loss.
On Saturday we went back for his twice-yearly annual check-up. (He's a very special cat.)
Dr. Hughes gets a big kick out of Duncan. He likes her too. He comes when she calls him, and he follows her around like a puppy dog. He makes himself completely at home in her office, walking on her desk, knocking over her thank-you cards, and checking out her treat jars. He's part cat, part dog, and part person, and she sees all that and appreciates his unique personality and special charm.
At one point Duncan sat in the chair beside me, across the desk from her, and she burst out laughing.
"I love that," she said. "Whenever a cat sits in the second chair, next to the owner, it makes me feel like a couples counselor."
She checked him out thoroughly and was very happy. Not only has the unexplained weight loss stopped, but he actually gained a third of a kilogram since Christmas! She says he's looking really good. There were other improvements too – he used to experience a lot of pain when she felt his abdomen, and he didn't this time.
However, he does need dental surgery. And since it appears he's not going to die anytime soon, I'm going to spring for it.
Duncan and I highly recommend his vet, by the way. Her name is Dr. Glenys Hughes, and she works out of the Merivale Cat Hospital. She was subjected to a little bad publicity recently, but Duncan and I think the world of her.