GC and I spent last week at Chandler Swain's pottery camp, on the banks of the Mississippi River in Blakeney, Ontario. There were nine of us at camp, including Chandler and her dog, William.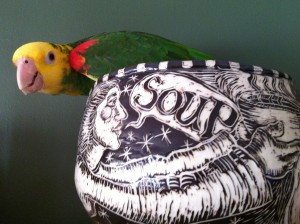 Chandler is my favourite potter, and I've collected a variety of her pieces over the years. I have teapots, plates, pitchers, bowls and mugs. Her designs incorporate a number of my favourite things, like crows and rabbits, and they tend towards the whimsical, without being overly cute.
Every summer she offers two week-long summer camps for adults. Some people go back every year, while some people, like us, have never done any pottery since making those clay ashtrays for our parents in kindergarten.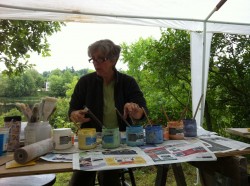 Chandler's an excellent teacher. She intuitively adapts her teaching style to each  individual. Right from the start we were making things. There was no pressure to excel, but there was ample opportunity to learn, practice and improve. I love that kind of learning environment. It's like an all-you-can-eat buffet: sample everything, go back for seconds of whatever you like best.
She started each day with a demonstration of something, and then encouraged us to either try that or work on our own projects. On Wednesday I had a headache and I spent the whole day making a series of nesting pinch-pot bowls while everybody else made teapots.
As the clay softened and transformed into various shapes, chipmunks darted about, birds sang, the river ambled by, conversation  flowed, and seven bowls later my headache was gone.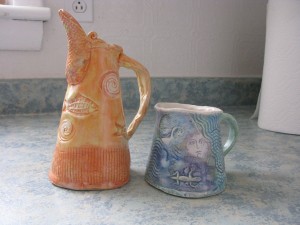 By the end of the week, I'd made a coffee mug, a pitcher, seven bowls, two cruets, a casserole dish and  a couple of tiles. Most of it still needs to be painted, glazed and fired, which will all take place on a separate day in August. But we did paint and glaze a couple of pieces each. Here's my mug and my pitcher. As you can see, I've retained the essence of kindergarten ashtray style, with much lumpiness and patching.
One of my favourite parts of the whole experience was seeing Chandler's studio. Here are a few photos I took inside and outside. Isn't she amazing?