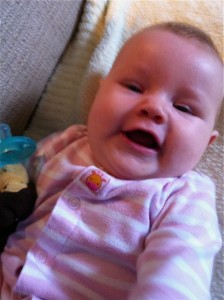 We took a whirlwind trip this weekend to Orangeville to meet my newest great-niece, Sienna, and visit with my sister's family. Is that a cute baby or what? She's happy and good-natured, too, probably because she's always surrounded by people who are head-over-heels in love with her. All babies should be so lucky.
A bunch of us went to the Orangeville Rib Fest on Saturday night. It's way more of an event than the Ottawa Rib Fest. In addition to ribs, it also has bands, a midway, beer and hundreds of picnic tables. Best of all, it has some of the best people-watching you could ask for, with lots of bad tattoos, wife-beaters, cut-offs, cleavage, thongs and midriffs. And that's just what the old folks were wearing!
There was an older man at our table wearing a t-shirt that said "Liquor up front, poker in the rear." In public.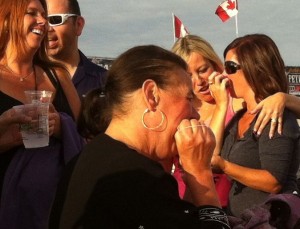 I was intrigued by an old lady at the next table, who wore blue eye shadow, blue nail polish and 24 pieces of blue jewelry, including a blue ring on every finger. She pulled a pack of dental floss out of her voluminous purse and started  flossing her teeth. I was reluctant to photograph her, since she was facing me, but here's a picture of her friend, who was also flossing while eating her ribs. Chomp floss, chomp floss. They passed the roll of dental floss around that table the way other people  pass around a pack of tic-tacs.
"At least they're not sharing the same piece of dental floss," said my brother-in-law charitably.
I have to say that the Orangevillians seemed to be enjoying their Rib Fest more than we enjoy ours. They know how to have fun!
After a short but enjoyable visit, we left Orangeville Sunday morning and headed for Toronto, where I had brunch with XUP.
It doesn't matter where we eat, XUP suffers from notoriously bad restaurant luck. They screw up her order, or burn it, or forget to cook it, or something. One time she asked for a veggie burger and they brought her a big mushroom in a hamburger bun. Then they argued with her about the definition of a veggie burger, until finally they agreed to give her a vegetarian pizza instead, which didn't arrive until long after the rest of us had finished our meals, and the whole crust was scorched to charcoal.
Her bad restaurant luck has followed her to Toronto. She ordered poached eggs with asparagus and brie and hollandaise sauce. The waiter asked if she would like the eggs poached soft, medium or hard.
"Hard," she said emphatically.
They arrived soft, of course. She sent them back. To make it up to her, the waiter brought a carousel of desserts for us to choose from. But we didn't really feel like eating dessert after breakfast, so we passed. (They looked suspiciously old, too.)
Meanwhile, GC and Rosie were visiting GC's brother a few miles away. He's a professional dog walker, and he had five dogs over for the day, including another Rosie.  So our Rosie made some new friends, including a Saint Bernard. (Our Rosie, by the way, proved to be an excellent traveler this weekend, as well as a perfect house guest.)
Meanwhile, Duncan was at GC's house, being looked after by GC's son, and the birds were at my house, being looked after by my son. I worried about them, since birds are emotionally complicated creatures, and I'd never left them before.
But everybody was fine. They were happy to see us. We'd only been home a few minutes when Simon spoke his newest word for me: Peekaboo. He said it 56 times, and I said it 56 times back.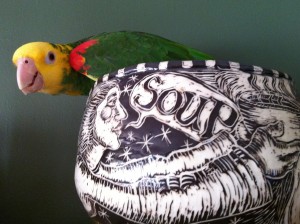 Kazoo wasted no time flying somewhere she wasn't supposed to be. I took a picture before taking her down. This is a soup tureen made by our favourite potter, Chandler Swain. GC and I are spending our summer vacation at Chandler's house, learning how to make pottery. Today's our first day of Pottery Camp!