This is a messy job. I recommend using your boyfriend's kitchen, especially if he has a Cuisinart and a tendency to clean up after you.
You start with this: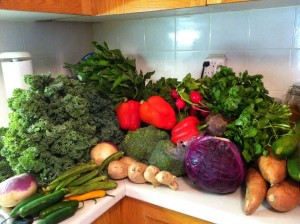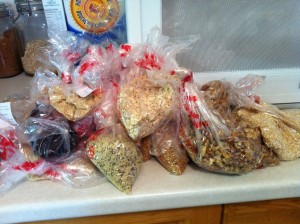 About halfway through, the kitchen will look like this: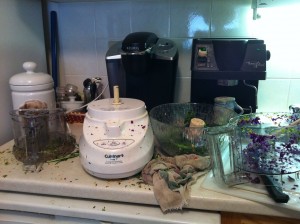 And the great big pot will look like this: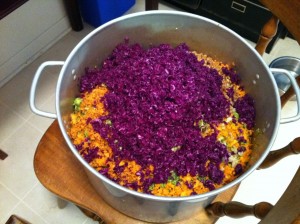 When your great big pot overflows, your boyfriend will go to the store and come back with a tub: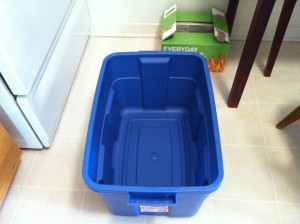 Dump everything in the tub and keep chopping and adding and mixing. When you are done, weigh it.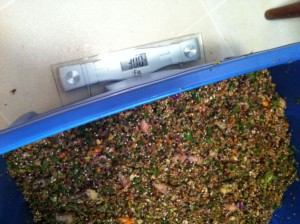 Sit on the floor with a box of baggies and a good friend, and spend an hour bagging it.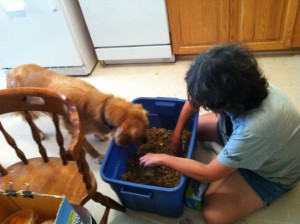 If it weighed 30 pounds, you will end up with 169 baggies of bird food.  Each bag of bird food will provide dinner for three birds for three days. Place 20 baggies in each large freezer bag.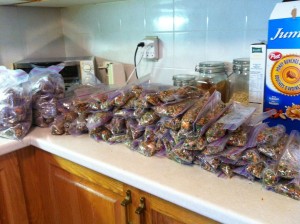 This is not necessarily the best time to start thinking about your freezer capacity. But, if necessary, eat all the ice cream, throw out the rest of the human food,  and stack your bird food neatly in the freezer.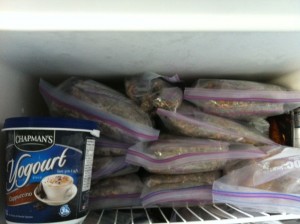 For the record, there's no actual recipe, and Chop is never the same twice. Here's what went into this batch.
kale
watercress
dandelion greens
turnips
sweet potatoes
red peppers
green peppers
jalapeno peppers
other hot peppers
ginger root
zucchini
okra
broccoli
broccoli rabe
beets
squash
carrots
red cabbage
radishes
pasta
coriander
oatmeal
flax seed
hemp seed
coconut
sesame seed
quinoa
brown rice
black rice
wheat berries
Next week I will make a batch of Bean Mix, which will be served along with the Chop for dinner each day. For breakfast they eat fresh veggies, fruit, seeds, nuts, homemade birdie bread and high quality commercial pellets. (Although Simon doesn't actually eat his high quality commercial pellets. He throws them at Rosie the Dog, who eats them.)