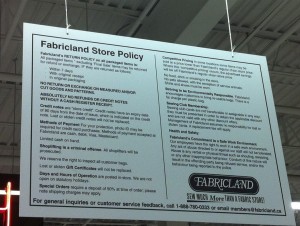 Further to my post the other day about Fabricland, here's a photograph of the sign that hangs over the check-out area.
I know it's hard to read, so I've transcribed it for you. It's especially fun if you read it out loud. Shout whenever you get to the all-caps or bold parts.
Fabricland Store Policy
Fabricland's RETURN POLICY on packaged items is:
All packaged items, excluding 'Final Sale' items may be returned for refund or exchange, IF they are returned as follows:
Within 7 days
With original receipt
In original packaging
NO RETURN OR EXCHANGE ON MEASURED AND/OR CUT GOODS AND PATTERNS.
ABSOLUTELY NO REFUNDS OR CREDIT NOTES WITHOUT A CASH REGISTER RECEIPT.
Credit notes are "store credit". Credit notes have an expiry date of 90 days from date of issue, which is indicated on the credit note. Lost or stolen credit notes will not be replaced.
Methods of Payment For your protection, photo ID may be required for credit card purchases. Methods of payment accepted at Fabricland are cash, debit, VISA, Mastercard.
Limited cash on hand.
Shoplifting is a criminal offense. All shoplifters will be prosecuted.
We reserve the right to inspect all customer bags.
Lost or stolen Gift Certificates will not be replaced.
Days and Hours of Operation are posted in-store. We are not open on statutory holidays.
Special Orders require a deposit of 50% at time of order; please note shipping charges may apply.
Competitive Pricing in some locations some items may be sold at a price lower than Fabricland's regular chain-store price. Where this 'competitive pricing' occurs, the advertised savings will be off Fabricland's regular chain-store price.
No food, drinks or smoking in the store.
No pets allowed, with the exception of service animals.
Shirts and shoes must be worn.
Striving to be environmentally responsible, Fabricland encourages customers to bring re-usable bags. There is a 5 cent charge per plastic bag.
Sewing Club Membership:
Sewing Club cards are not transferable or assignable in any way; they must be presented in order to obtain the applicable discount and are not valid with any other discount offers.
Management of Fabricland assumes no responsibility for lost or stolen cards. A replacement fee will apply.
Health and Safety:
Fabricland's Commitment to a Safe Work Environment
Our employees have the right to work in a safe work environment. Any act of abuse directed to or against our staff will not be tolerated. Abuse is any verbal or physical threat such as shouting, swearing or any other inappropriate behaviour. Conduct of this nature will result in the offending party being refused service, and/or the behaviour being reported to the police.
FABRICLAND. Sew much more than a fabric store.
For general inquiries or customer service feedback, call 1-888-780-0333 or email members@fabricland.ca.
---
Sounds like a fun place to shop, doesn't it? They might as well just hang a sign that says "We hate our customers."
In my experience, businesses that treat their customers like that tend to treat their staff like that too. I bet it's just as bad a store to work at as it is to shop at.