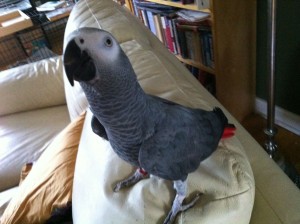 Simon has discovered I have ears. I mean, he's always known I have ears, but he used to think I only had them after a shower, when my hair was wet. Now he has figured out that I always have ears. So 30 or 40 times a day, he flies over, lands on my shoulder, sticks his beak through my hair and bites my ear.
Parrots generally bite for one of several reasons: anger, fear or fun. Simon bites my ears for fun. But beaks are sharp and ears are tender, so it's not as much fun for me as it is for him.
He also bites my fingers a lot – mostly gently, but sometimes not. Nibbles are okay. Bites are not.
This is my first issue with Simon requiring any kind of discipline. When he bites too hard, I say "NO BITE!" in a firm voice. If he bites again, I repeat it and put him in his cage for a 5-minute time out. I also give him the Evil Eye, but only briefly. African Greys are very sensitive creatures, to the point of bordering on the neurotic. They can be psychologically devastated if they feel their loved one is threatening them, and a prolonged Evil Eye could easily be interpreted as threatening.
After five minutes I let him back out of his cage and give him hugs and kisses and remind him that good birds don't bite. And then we say Peekaboo and Wow, and life goes on.