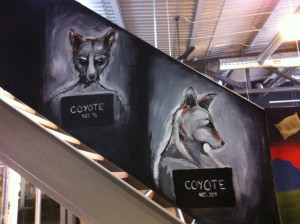 I wonder if Coyote knows his mugshot is plastered all over that new coffee roasting place on Anderson Street? The last thing he needs is a bunch of heavily caffeinated bounty hunters on his tail.
Speaking of bounty hunters, I was thinking about the ways my sister and I used to make money when we were kids living on a stretch of road a couple of miles from the closest village. There weren't many entrepreneurship opportunities out there. A kid with a lemonade stand would've starved.
I babysat for 50 cents an hour (double after midnight) and I cleaned ovens for 50 cents apiece. I was a better babysitter than I was an oven cleaner. I'd never heard of oven cleaning products, and no matter how hard you try, your really can't get an oven clean with just water and elbow grease. Not only that, but I scrubbed the oven racks in my clients' bathtubs, and I scratched the enamel on Doreen Hicks' bathtub. My oven-cleaning career ended after only two ovens. I had worked a total of eight hours for a single dollar.
But my big sister, she was always smarter than me in the money-making department. Her first job, at the age of twelve or thirteen, was as a bounty hunter. If I remember correctly, the township was offering $5 cash on the spot for every pair of raccoon ears you turned in, because apparently there were too many raccoons that year.
Debbie wasn't prepared to actually hunt raccoons, but she and our grandfather, Opa, would drive the local highways looking for roadkill. Every time they'd spot a dead raccoon, he'd stop the car, and she'd jump out and go cut off its ears with a pair of shears. When they figured they had enough, he'd drive her to the town office and she'd collect her earnings for the day. Sometimes she made fifteen or twenty dollars. I'd have had to clean thirty or forty ovens for that kind of money!
Anyway, be careful out there Coyote. Keep your eyes peeled, and watch your back. (And your ears.)