I'm taking a brief break from the Ask Me Anything series to tell you that at 7:50 this morning, my favourite son will turn 30 years old. (He'd still be my favourite even if I had more than one, but I probably wouldn't say it out loud.)
It doesn't seem all that long ago that I was young and he was a newborn, so it's a little surreal that all of a sudden he's 30 and I'm the mother of someone whose hairline is receding. It's like we both catapulted through life and now I'm living in a cliche and asking "Where did the time go?"
James is coming over for his traditional birthday feast tonight: beer batter chicken balls, cucumber salad and birthday cake. His dad is coming too. It'll be like catapulting backward through time, however briefly.
GC and I had an unusually good weekend. Friday night we were invited to Pressed on Gladstone to check out some live music. It's a cozy little coffee house with excellent food and a liquor license. The music was great: Little Red Deer (with Leslie Dishslayer), Jill Zmud, and Ian Foster. They were all terrific, and exactly the right kind of music for the venue. I can't even tell you the last time we saw live music, let alone stayed for a whole show. As an added bonus, we ran into three blogging-community friends there, including one I'd never really met before, and it was good to spend a little time talking and catching up in person.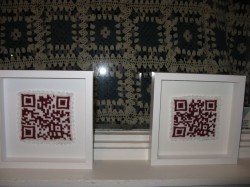 Saturday night we went out and played at Nuit Blanche. It's the first year Ottawa has done Nuit Blanche, which is basically an overnight city-wide celebration of art in all its various forms. GC and I did the Hintonburg stretch. We got free art from the Free Art van, checked out the CUBE gallery, saw the Dan Martelock exhibit (again) at the  Orange Gallery, visited Twiss and Weber's knitting place, stopped in at Collected Works Book Store, watched the video flash cards in Lauzon Music's upstairs windows, and checked out the dancers in the park behind Parkdale Market. One of my favourite stops was Twiss & Weber's. The whole shop was yarn-bombed and there was a series of hand-knit, framed QR codes that you could scan with your smart phone, which I did.
Other than that, GC had to work this weekend and I busied myself sewing. I'm making a surprise.
On the not-so-good side of things, my Twitter account got hacked and someone sent spam to all my followers. It said "Your in this, lol" with a link that appeared to be going to facebook. I wonder what it says about me that I was mortified that the spammer made a spelling mistake while impersonating me?
Anyway, if you follow me on Twitter, I'm sorry about the spam. I hope you didn't click on the link.