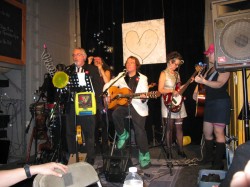 Astronaut Love Triangle was brilliant and superb and I love them more each time I see them. They've added a couple more pieces to their repertoire (I especially liked the Roller Derby Girls) and they've modified at least one piece to reflect changes in the composition of the band (the lovely, irreplaceable Aggie has moved on to other creative pursuits).
Despite my outrageously high expectations for this show, I was not disappointed. The only thing I'd change about Astronaut Love Triangle is that they'd play more often and have longer shows. But those are the same complaints everybody has always had about Astronaut Love Triangle. If you bring it up, the band members just shrug philosophically and smile those enigmatic smiles of theirs.
It's impossible to describe what the Triangle does, so I won't even try. You have to see it yourself, in person, live. But it's unique and brilliant and if you're smart and have a sense of humour, you'll love it.
Not only are they talented and witty, they have talented, witty friends who collaborate with them.
The evening started out with a set by the incomparable Sally Robinson, who combines really good original bluesy/boogie-woogie  music with a sparkling stage presence and a lively, spontaneous sense of humour. Nobody does audience rapport better than Sally. My favourite piece was Clarinet Players. I've seen her perform a couple of times before, with the Toasted Westerns and the Herb Girls, but it was GC's first time. He was smitten! He bought her CD and as soon as we got home he was at the computer, googling her.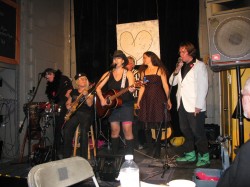 After Sally's performance was the inimitable Astronaut Love Triangle, followed by two sets of Elizabeth Riley Band with Sally on the bass. (And actually the whole set thing was kind of fluid, as the bands mingled and overlapped for parts of each set.)
Elizabeth Riley Band is an all-woman band with nobody named Elizabeth Riley in it. They're wonderful and eclectic and a lot of fun. They play a mix of original and cover songs, and everything from love songs to hard-hitting social justice songs about Spirit Sisters (missing and murdered Aboriginal women on the Highway of Tears) and Raymond Lahey (child pornography bishop). Despite the heavy content of some of their material, they manage, through their personalities and humour, to keep the mood upbeat. My favourite piece was a Rae Spoon song called Come On Forest Fire.
The evening was set at Cafe Michel-Ange, a warm and cozy coffee-roasting coffee house. It's on Laurel Avenue, off Breezehill, and you'll have to make a special point of going because you'll never end up there by accident. It's tucked away in an obscure back pocket of Little Italy.
It was a very special evening. You can see some pictures here.
---
P.S. The sock draw will be held later today. Check back in to find out if you won!