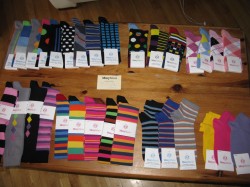 I won the grand prize in the MoxyMaüs draw! 62 socks! Every pair of socks in their collection! I'm celebrating my good fortune by having a little contest of my own.
MoxyMaüs is a local sock company. The socks are designed here in Ottawa, but  made in Turkey, which, apparently, is the Sock-Making Capital of the World.
My grandfather's best friend owned a sock company in Montreal. I think it was called Bonnie Belle. Every year he would give my sister and me several pairs of socks for Christmas, but I didn't appreciate them. As a little kid, I thought socks were just about the most boring gift imaginable.
But I'm not a little kid anymore, and MoxyMaüs socks are anything but boring!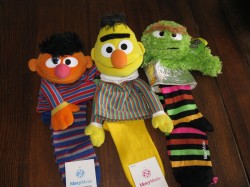 GC bought two pairs for himself at Westfest a couple of years ago, but his son liked them so much he gave them to him. And I gave a pair to my brother for his birthday earlier this year. That's how much these socks rock – they even make good presents.
A few years ago, GC and I went to see the local CBC radio celebrities perform their reading of A Christmas Carol. They were all dressed up to the nines, but what stuck in my mind is Michael Bardwaj's green socks and how they added so much style and personality to his suit.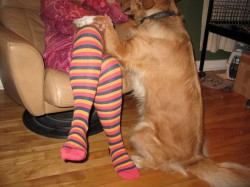 Even somebody like me, who doesn't even attempt to do fashion, can get a major style boost from socks like these.
I've blogged before about how hard I am on my socks. I think it has something to do with the combination of walking a lot and having toenails made of diamonds. My socks tend to get holes in the toes within about three wearings. Even my shoes get holes in the toes.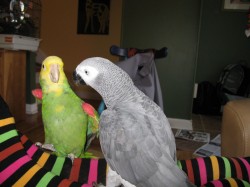 There are two schools of thought here. One is that I should buy expensive socks because they'll last longer. The other is that I should buy cheap socks, because I'm going to be throwing them out in a few weeks. I tend to subscribe to the second school of thought. I did buy more expensive socks once, and they lasted a bit longer than cheap socks, but not enough to justify the difference in price.
Anyway. When I found out that I was the grand prize winner of the MoxyMaüs contest, I was ecstatic, because I love new socks and this is one of those little luxuries I would never have bought for myself because of the aforementioned toenail problem.
So I trimmed my toenails and filed them down, and waited for the big box of socks to arrive.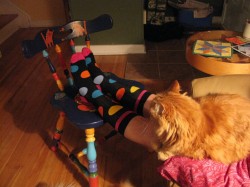 I can't yet speak to their durability since none of them have been worn more than once.  But I can say I love them and they've improved the quality of my life . They're comfortable, fun and classy all at the same time, and whenever I look at my feet, I feel happy. I don't think you can ask a whole lot more of socks than that.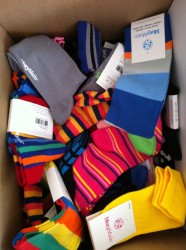 I'd like to share a little bit of my good fortune with you. Everybody who leaves a comment on this post before Monday October 15th will be entered into a random draw for a brand-new unopened pair of socks from my bottomless box of MoxyMaüs socks. The draw will take place on Monday, which is my birthday!