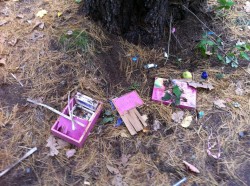 Yesterday I watched a nasty old lady beat my swap box to death with her cane.
Rosie and I were out for an afternoon walk in the Enchanted Forest. As we rounded the curve in the path, I saw the tree upon which the swap box lives. And there was an old lady viciously smashing the swap box with her cane while her little dog waited patiently nearby. Even after the swap box was on the ground in pieces, she continued to smash it, and as I got closer I could hear her cursing "Goddamn idiots!"
My first thought was that this was most fortuitous from a blogging perspective. We all knew the swap box wouldn't last; it was just a matter of time until someone destroyed it. But who could have imagined I'd actually get to see who it was and witness her doing it and talk to her about it?  In the twelve days since we installed it, I've probably spent an average of a minute a day at the swap box. What were the odds that I would just happen to be there at the very same minute she just happened to be there destroying it?
If I'd come along five minutes later, I'd have found the swap box smashed on the ground. I'd have probably guessed it was kids, or maybe an angry young man. Never in a hundred years would I have suspected a little old dog-walking lady of destroying my swap box.
As I approached, she looked up from beating the swap box and our eyes met.
"Is something the matter?" I asked.
"It's just stupid goddamn kids and — never mind, nothing's the matter," she muttered.
"Why did you wreck it?" I asked.
"Stupid kids believe in fairies," she said. "This is is one of the last stands of red pines in Canada, and they put metal screws in this tree because they believe in fairies and magic. They have no respect for Mother Nature!"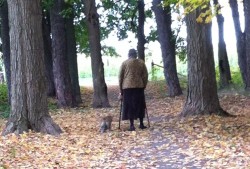 And then she shuffled off with her little dog.
One thing about me is I always consider the possibility that the other person might be right. Could it be true that this was one of the last stands of red pine trees, and that putting screws in a tree would kill it? Even if there were lots of red pines, I'd feel terrible about killing one.
GC and I  had briefly discussed, immediately before installing the swap box, whether it could harm the tree. My thinking was that people put screws in trees all the time – for birdhouses, bird feeders, hammocks, etc. Trees are big and strong and hardy and they can handle it.
But still. What if she was right?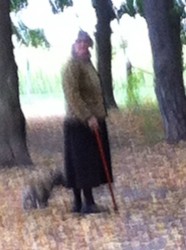 I took a picture of the swap box's corpse. And I took a couple of pictures of the old lady and her dog, walking away. She turned around.
"What are you doing?" she asked.
"Taking a picture," I said.
"You have no right to take a picture of me without my permission," she said. "I could have you charged."
We argued about that for a couple of minutes, and ended up within conversational distance of each other again.
"I bet you didn't know that about the trees, did you?" she asked.
"No," I admitted. "And maybe the person who put up that box didn't know either."
"Stupid children," she spat. "They believe in goddamn fairies and think they can do whatever they want."
"What makes you think they believe in fairies?" I asked.
"I asked the children, the ones who put up that stupid box. I was here when they were putting it up. They said fairies left stuff in the box for them. Goddamn idiots."
"Actually," I said, "I put up the box."
She looked startled.
"You lied about the children, and you lied about the fairies," I said. "So maybe you're lying about the trees, too."
"I didn't lie," she said, "I never said the children put up the box. I just saw them looking in it, and they told me it was fairies."
"You're still lying," I said.
"I've had enough," she said, and turned to walk away.
"You're just a nasty old lady," I called after her.
Which, as we both knew, was true, although I admit it wasn't very nice of me to point it out.
Anyway. The first thing I did when I got home was google  the number of red pines in Canada, and if screws damage trees. Apparently there are lots of red pines. And screws damage future lumber, by altering the grain, but a healthy tree can easily withstand a few screws.
I'm happy I got to witness the entire life cycle of a swap box, from creation to installation to destruction. Elmaks would have liked that. And I'm glad I saw her destroying it. This way I know it was just one miserable old lady doing it for an odd combination of reasons that included loving trees and hating children. Hundreds of other people saw the swap box and either ignored it or had some fun with it, so my faith in human nature was bolstered overall by the whole experience.
(But isn't it interesting that she and I shared the same instinct to blame children? She blamed children for putting up the box until I told her it was me, and I would have blamed children for destroying it if I hadn't seen her doing it. I bet kids get blamed for all kinds of things they didn't do, because adults can't imagine other adults doing these things.)