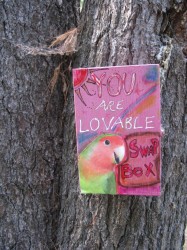 GC and Rosie and I installed a swap box in the Enchanted Forest in honour of Elmaks. Turns out none of us are especially handy with a drill. Rosie played the opposable thumb card (again), but GC and I didn't really have an excuse. On the plus side, you learn a lot about how to do a thing from doing it the first time, and now GC and I are much better at installing swap boxes.
The Enchanted Forest runs beside Fisher Avenue, on the edge of the Experimental Farm. I picked a tree that is smack dab in the middle of the path. In fact, the path diverges in two to go around that tree. Being a typical Libran, I always struggle a bit with that when I'm walking along the path. Should I go around the tree to the left or the right? Part of me always wants to go the same way, but part of me thinks I shouldn't allow that part of me to decide. I always wonder if I'm the only one who struggles with this.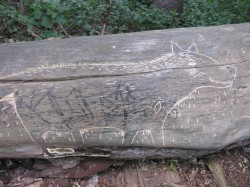 Anyway. I was initially thinking the swap box should go over by the fallen log with the carved creature on it, since it's street art too.  Or forest art. But I wouldn't want people to have to walk through poison ivy to use the swap box. The indecisive tree in the middle of the path seemed ideal.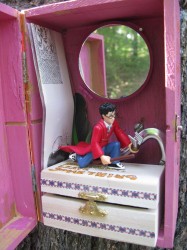 After we put it up, we put a few things in it and then we walked down the path and watched from a discreet distance as people approached the swap box. We saw two pairs of cyclists and one pedestrian go right past it without stopping. I can't even imagine passing a swap box without stopping, but that's what they did. One of them was even a kid about 10 years old. It doesn't bode well if  you've already lost your sense of curiosity by the age of 10.
We went back that night, under the full moon, and checked on it. It was still there, but there was nothing new in it and nothing had been taken.
The next day somebody took the Harry Potter figure.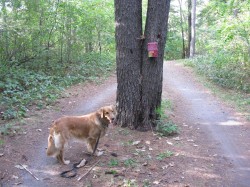 This morning GC and Rosie were out walking before the sun came up, and they discovered somebody had put something new in it. GC wasn't sure what it was exactly since it was still dark outside, but he said something about pink chiffon. So it's officially a swap box now!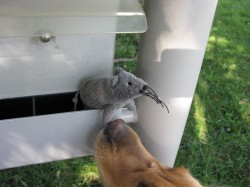 (A few minutes after we installed the swap box, Rosie found some street art of her own. It was on one of those "You are here" signs on the bike path.)