Sometimes GC and I go months without going to the movies, but this week we went three days in a row.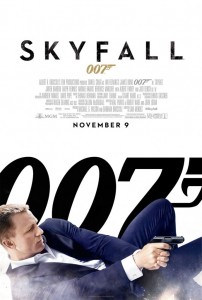 First we went to the James Bond movie, Skyfall. It wasn't a must-see for either of us, but it was the one with the most convenient show time when we first thought of catching a movie. We agreed it was a 6 out of 10 and I can't think of anything else to say about it.
The next day we went to see Les Miserables. GC gave it a 7 and I gave it a 3, which reflects the fact that he likes musicals and I do not. I don't like them because all that singing keeps reminding me that it's not real life, so I can't get into the story. But I figured I could put up with a little singing and dancing if it was a good movie otherwise.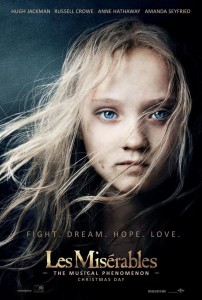 The thing is, this movie is ALL singing. They sing every conversation, and often badly, with a camera zoomed halfway up their nostrils while they weep and caterwaul. (Just about everybody got a scene in which they got to weep and sing simultaneously in giant close-up view, and the only one who pulled it off was Anne Hathaway singing "I dreamed a dream," which made me cry.)
But overall, this movie is long, drawn out, and overwrought, with few redeeming features, and I found it irritating. If you don't like musicals, don't expect Les Miserables to change that. But if you do like musicals, they say this is a pretty good one.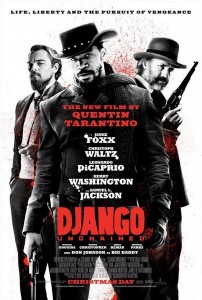 The third day we saw the Quentin Terantino flick, Django Unchained. I thought this one was the best of the three. It was a blood-and-guts, comic-western revenge-fest. Christoph Waltz as the dentist-bounty-hunter was lots of fun. This film was consistently entertaining and sometimes funny, and nobody sang a damned thing, which was fine by me.
I gave Django Unchained a 7; it would have been an 8 without all the over-the-top gratuitous gore. I had to close my eyes altogether for one scene, and there were several other scenes I wished I'd closed my eyes for. Also, the N-word was said so many times in this movie that it was stripped of its power. I'm not sure that's a good thing.
GC gave Django Unchained a 7.6.