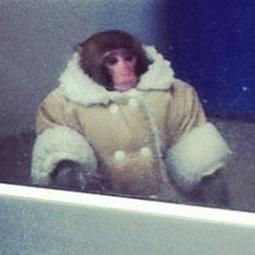 We went to an Apocalypse party on Friday night, where I got into an interesting discussion with my friend Andrew about Darwin the Ikea Monkey. Andrew has tried to completely ignore Darwin. He has seen the headlines, but has refused to click on them. He managed to know nothing beyond the fact that something called the Ikea Monkey was trending in social media.
I, on the other hand, followed Darwin's story closely, because from the moment I first saw him in his little faux shearling coat, I was in love.
As a child I always wanted a monkey. A chimp, actually. I wanted to dress him up in little striped overalls and a railroad conductor's cap and high-top sneakers. Fortunately no actual chimpanzees were harmed in the making of this fantasy, and I outgrew it when I got my real live human brother at the age of 12. But I still have a residual soft spot in my heart for the idea of pet monkeys wearing cute clothes. Not the reality, but the idea.
Anyway. The discussion at the Apocalypse Party wasn't about whether people should have pet monkeys (they shouldn't) or whether pet monkeys should wear faux shearling coats (oh yes!), but whether the Ikea Monkey had any business being in the news in the first place. Not just the Ikea Monkey, but the fake baby-snatching eagle, the Dutchess's morning sickness, and pretty much everything celebrities do and say.
Andrew believes that frivolous, trendy memes have no place in the news, and by accepting them as news we are complicit in allowing ourselves to be collectively distracted and distanced from real news that actually matters. We are not paying attention to serious problems that need us to fix them. He might even have mentioned something about the fall of the Roman empire.
So who decides what's newsworthy? Is it the news industry? Or are they taking their cues from us? When we click on a headline, are we saying we want more of this kind of news? Because if we consume news the way we consume most other things on the net, we're probably saying we want short, snappy, entertaining news that demands very little of us in terms of mental effort or action required. And that kind of news is easier and cheaper to produce than thoughtful, well-researched pieces.
Ikea Monkey notwithstanding, I think Andrew's right. What do you think?