I'm still mulling over my visit to Vancouver's Downtown Eastside – I'll write Part II of that post once I figure out what I think.
In the meantime…here's something fun for you to do on May 1st if you happen to be in Ottawa.
Gil's Hootenanny, an evening of "Songs of Protest, Songs of Hope": Wednesday May 1st, 7:30 p.m. at the Glebe Community Centre, 175 Third Avenue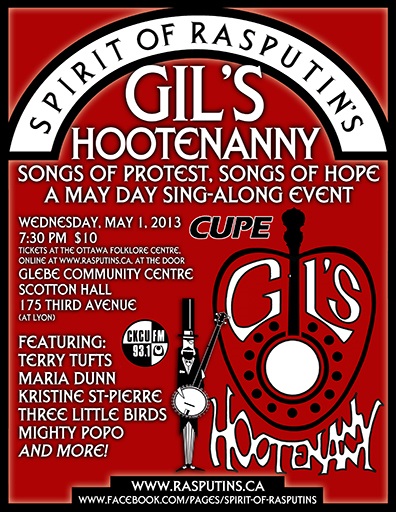 This is an annual event in honour of Ottawa activist Gil Levine, who loved folk music sing-alongs.
This year's Hootenanny features Kristine St-Pierre, Mighty Popo, Three Little Birds, the Shout Sister choir, Maria Dunn, and Terry Tufts. It's hosted by the Spirit of Rasputin's Arts Society and is sponsored by CUPE and PSAC National Capital Region.
Tickets are $10 each (kids 16 and under are free) and are available at the Ottawa Folklore Centre or online at http://rasputins.ca/events/gils-hootenanny/. Proceeds will help raise funds for for Spirit of Rasputin's programming throughout the year.