Long-time readers will know that the last weekend in May is my favourite weekend of the whole year, because the Great Glebe Garage Sale and the Ottawa Race Weekend both fall on that weekend.
Okay, first of all, congratulations to everybody who ran this weekend! My hairdresser, Bev, ran her very first marathon! We didn't see her, but we did see our friend May, who ran the half-marathon. And Finola ran too. Congratulations to all of you, and to everybody else who ran too – you're all freakin' amazing.
You'll never guess what I got at the Great Glebe Garage Sale! Oh, you'll guess all the usual stuff, like the books and stuff. But you'll never guess the pièce de résistance.
Here's the day's haul.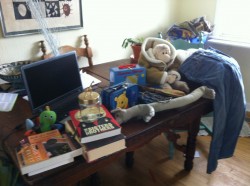 Two necklaces that I really like for just twenty-five cents. (In real life they're in focus.)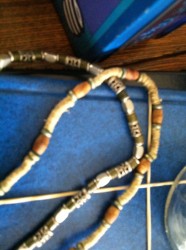 A dangly toy for Simon, and some books for me – there are a few other books, too, including The Historian.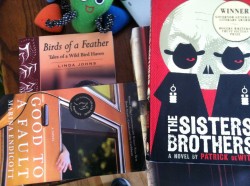 I bought these fabulous jeans for $5. I have to lose five pounds before they'll fit. But in the meantime I can admire the turquoise button.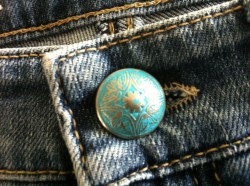 (And the pocket trim!)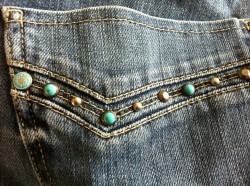 I've always got my eye open for giraffes, because my son collects them. I'll fill up this jar with candy and give it to him. He'll like that.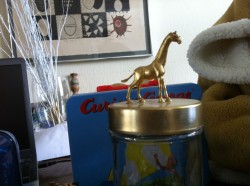 And the moment we've all been waiting for: the pièce de résistance of the Great Glebe Garage Sale 2013: The Ikea Monkey!!*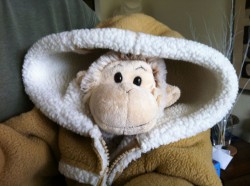 I bought the $1 monkey at one sale, originally for Rosie. I was looking for a stuffed snake for her, because she loves chewing on stuffed snakes. I couldn't find one so I settled for a stuffed monkey with long arms and legs. Then, a few blocks later, I found this little faux shearling coat! It was only $2. I said to the woman "It's the Ikea Monkey's coat!" and her little girl said "That's what I said!" The mom said "Too bad there's no monkey to go with it," and I said "I just bought one a few minutes ago!" And the woman and the little girl and I were all so happy. It was one of those win-win situations all around. Except for Rosie, who didn't get a snake OR a monkey to chew on.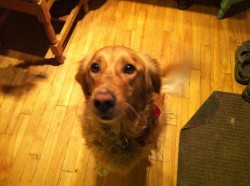 But GC bought her a stuffed toy that has an elephant head, a snake body and paws. Definitely weird. GC also started an impressive metal lunchbox collection.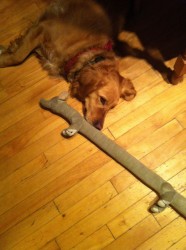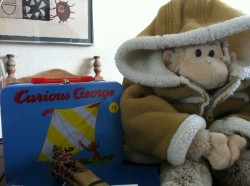 ---
*Apparently not everybody is familiar with the Ikea Monkey, so if you fall into that category, here's a little background: