I've been sick for 10 days now. I'm tempted to go on and on about my symptoms, but you can only get away with that if you blog regularly about interesting things, and blog only occasionally about being sick. Since I haven't been blogging much lately, I don't think I can get away with a sick post. (But if I could blog about my symptoms, I'd probably start with the laryngitis and headaches and then move on to the sore throat, hot flashes and general fatigue, and finish up with the annoying cough that flares up every evening and goes on for hours and causes insomnia.)
So, in
other
news…I've been quilting when I have the energy, and reading when I'm too tired or too high from the cough syrup to quilt. Right now I'm reading The Navigator of New York, which I'm liking. I'm also reading Life Is About Losing Everything, by the controversial Canadian poet, Lynn Crosbie – but this book isn't exactly poetry. It is, I think, a fictionalized memoir made up of plotless short stories. It reads like a verbal collage, a feast of phrases. She's like the half-mad love child of Charles Bukowski and Allen Ginsberg. I'm not sure I'd like Lynn Crosbie in person, but I really like her book.
I also just finished reading The Suspect, which I bought at a garage sale. Sometimes when I'm choosing books, I like to open them up at random and read a sentence: If that sentence speaks to me, I buy the book. In this case, that sentence was about two things I like very much: The Sunshine Coast of BC, where I spent one wild summer of my wayward youth, and parrots. Based on that, I bought the book. It's a mystery, set on the Sunshine Coast. But the parrot was disappointing – he was a very minor character. What a waste of a parrot! (If I'd written that book, the parrot would have been a key witness.)
Speaking of mysteries, it's a mystery why I just read two mysteries when I never read mysteries. The other one was Gone Girl, by Gillian Flynn, which was surprisingly well written. I read it because Sheilagh Rogers recommended it as good summer reading. I also just finished One in Every Crowd, by Ivan Coyote, which is an excellent collection aimed at young people. The world would be a better place if everybody read that book in Grade 8. It's about fitting in, or not fitting in, and learning to honour your own (and other people's) differences.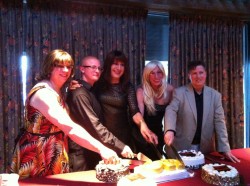 Speaking of which, GC and I went to Gender Mosaic's 25th Anniversary party a week or so ago. Gender Mosaic is the oldest transgender social and support group in Canada. It was a lovely party and we met some very interesting and likeable people. I was pleasantly surprised to learn there is a trans police officer on the Force.
The ideal blog post is 500 words, so without —