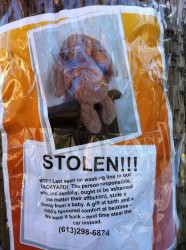 I saw this sign on Percy Street today:
"STOLEN!!!
WTF? Last seen on washing line in our
BACKYARD! The person responsible,
who, incidentally, ought to be ashamed
(no matter their affliction), stole a
bunny from a baby. A gift at birth and a
child's favoured comfort at bedtime –
We want it back – next time steal the
car instead.
(613) 298-6874″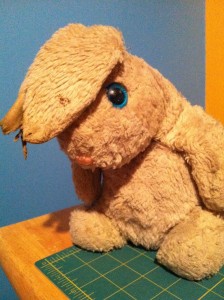 I totally get where they're coming from. My son had a cherished bunny named Bunny when he was a little guy. It was a gift from his Auntie Flo when he was born. He loved that bunny to pieces. He couldn't leave home without it, couldn't go to sleep without it. (And we managed just fine without a car, by the way.)
More than once we had to get off a bus when we were halfway to wherever we were going and go back home for Bunny because we'd forgotten him and he was Absolutely Essential to Jamie's happiness.
One night at bedtime, when he was about two years old, Jamie said Bunny was gone. I looked everywhere. Eventually I found him in the vegetable crisper. (You know you've looked everywhere when you start looking for stuffed animals in the fridge.)
"What's Bunny doing in the fridge?" I asked, perplexed. Jamie just grinned at me, and I realized he'd actually hidden him there on purpose, to delay bedtime…his first act of duplicity!
Once in awhile I'd have to wash Bunny because he smelled like someone had been sucking on his ears and peeing on him for years. Jamie would sit by the washing machine until Bunny was done, then they'd have a quick damp snuggle between the washing and the drying. Bunny would then go into the dryer and Jamie would sit by the dryer and wait for him.
Bunny is 31 years old now. Jamie outgrew him, but I never did. He lives on a shelf in my bedroom and I'd still be devastated if someone stole him. He's my favourite relic from Jamie's childhood.
I hope those people get their bunny back.
(But what kind of thief steals a stuffed bunny from a clothesline? Drunk kids? A dog?)