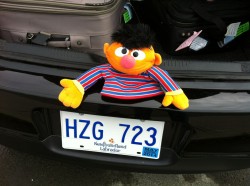 Today's post is brought to you by the letter H and the number 3.
That's because the 3 of us – Zoom, GC and me – went to Newfoundland for our Honeymoon!
The license plate of the car we rented was HZG, which stands for Honeymoon Zoom GC. (They forgot the E for Ernie.)
Here are some Highlights from my Honeymoon.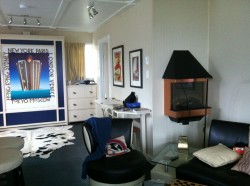 We stayed in a pink boathouse in Trinity East! It was cozy and comfortable and very romantic. We had a big balcony looking out over the village and Trinity Bay. The kitchen, living room, dining room, bedroom and office were all in the same room! We had a fireplace and lots of windows and 21 lights and a bed that folded out of the wall! (One day I slept in and I got folded up into the wall. I'm not even kidding!)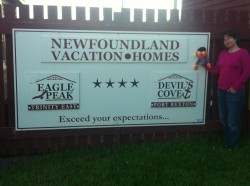 Newfoundland Vacation Homes has the perfect place for everybody. From teeny tiny room for one little wee person to whole houses for big families. Someday maybe I'll rent Devil's Cove for a Sesame Street reunion. (The Shipping News was filmed in Devil's Cove. It rained one day so me and GC and Zoom watched the Shipping News.)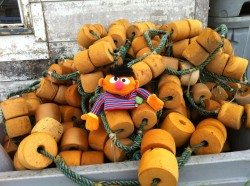 The little village of Trinity East is prettier than a postcard. This is me in a bin of boat things. Zoom took this picture because she says I look nice in orange.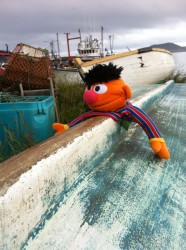 I don't know a whole lot about boats, because I grew up on Sesame Street, which is landlocked. All I knew about boats is that they start with the letter B. But here's a picture of me driving an actual boat. It's not so hard – I could probably do it standing on my head!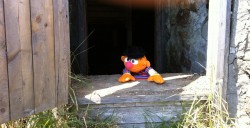 One day we drove to Elliston, which is the Root Cellar Capital of the World! This is me in a root cellar. Root cellars are dug into little hills and they have little hobbit doors. People keep food in them. Elliston is all about the root cellars and the puffins. The puffins and I sat on the edges of opposite cliffs and watched each other for awhile.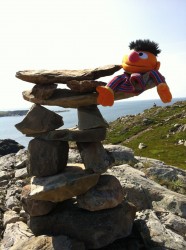 Here I am at Bonavista, which you might remember from the song: This land is your land, this land is my land, from Bonavista to Vancouver Island! Me and Zoom and GC sang that song a LOT the day we went there. There's a famous lighthouse in Bonavista, and that's where they keep the Atlantic Ocean too – it's HUGE. I think Rubber Ducky would like it there.
On the way to Bonavista we came to a place called Dungeon, and a flock of sheep crossed the road right in front of us! We got out of the car and Zoom wanted to take a picture of me riding a sheep, but the sheep thought it was a baaaaaad idea.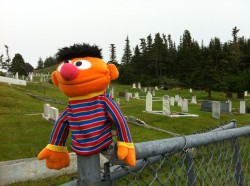 Zoom and GC have what you might call a morbid fascination with graveyards. Every time they see an old graveyard they want to stop and go in and read all the tombstones and imagine how the people lived and died in the olden days. Whenever they go into a graveyard, I wait outside, thank you very much.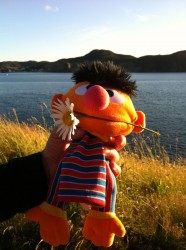 I picked a daisy for Zoom since it was our honeymoon. She kissed my nose.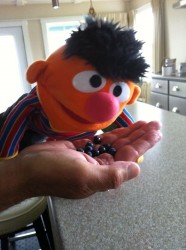 GC picked some blueberries for me, because it was our honeymoon. In Newfoundland, blueberries grow in your front yard, instead of grass.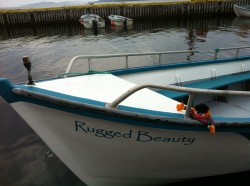 This is the Rugged Beauty, which is a boat in New Bonaventure, where the mini-series Random Passage was set. We were planning to go on a boat tour on the Rugged Beauty, to see whales and abandoned villages, and hear stories about the olden days! But there was a wedding the night before, and Bruce the Skipper was at the wedding, and he took the next day off. So, while GC and Zoom checked out the local cemetery, I hung out on the Rugged Beauty by meself. Ahoy Matey!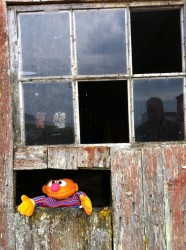 Here I am in Bruce the Skipper's stage. That's the shack where they clean the fish. It was a bit smelly in there. Oscar would have liked it.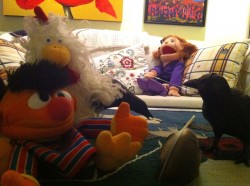 Newfoundlanders are so friendly. Brenda and Donna invited me and Zoom and GC over for dinner at the Crow's Nest. The scallops were delicious. Here I am with some of my new friends from the Crow's Nest: The Little Red-Headed Girl, two Crows, and the Rooster Who Crows!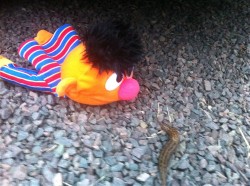 Oh, here's another new-found friend. I called him Slugger.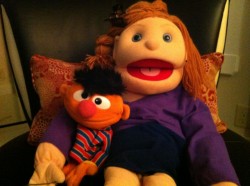 This is me with The Little Red-Headed Girl. She's got groovy purple shoes and she lives in a closet in the Crow's Nest. She doesn't get out much. She and Brenda and Donna and Lynn and Peggy all came over to the boathouse one night with a surprise birthday cake for GC! The grown-ups partied in the kitchen and ate Cointreau-soaked birthday cake while the Little Red-Headed Girl and I cozied up on the couch. The Little Red-Headed Girl is going to come stay with me and Bert next winter!
That's Part I of my Newfoundland honeymoon guest post! Part II will be about my visit to Dildo, and Part III will be about going to St. John's. I had some pretty wild adventures in Newfoundland, and shook hands with some famous people. Stay tuned!