Ernie here. This is my third and final honeymoon post. Then I'll turn the blog back over to Zoom, and I'll go back to sitting on the shelf with Bert. Ho hum.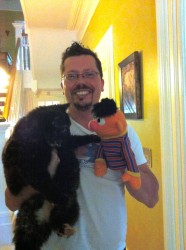 First thing we did in St. John's was check into our new home. (We found it through Airbnb, which is very cool and which you should consider if you are traveling anywhere in the world.)
We stayed at Cory's house. Cory teaches folklore at the university and does research on the queer underground economy in Havana, Cuba. His house was very nice. This is a picture of me, Cory and one of Cory's two cats.
Cory's house was just up the hill from downtown, so we walked everywhere. We celebrated GC's birthday at Portobello's. I spent the whole meal in Zoom's bag, so I didn't get to eat. But it sounded good.
The next day we went for a very, very long walk. We walked up Signal Hill, down through The Battery, then all around downtown for hours. I was pooped! My pedometer said we walked over 30,000 steps!
Here I am at the top of Signal Hill.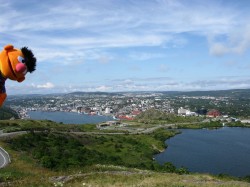 This is me looking out the window in Cabot Tower.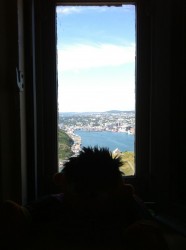 Here's a picture of me hanging out with a new friend.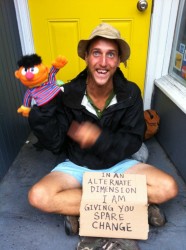 Bucket List: #77 Ride a Newfoundland dog.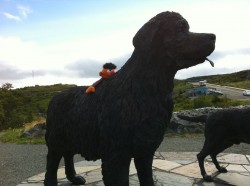 We did a little window shopping and we all agreed I'd look smashing in that little tweed jacket.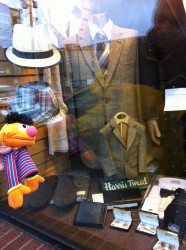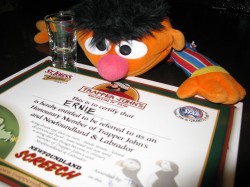 Screeching-In is a ceremony by which you become an Honorary Newfoundlander. At first the bartender at Trapper John's said she wasn't going to screech in a doll. Zoom told her I wasn't a doll, I was ERNIE, from Sesame Street, and she said yeah, yeah, I know who he is. And then GC and Zoom and I all looked at her beseechingly, and she relented and said OK. So we had to say stuff and drink Newfoundland Screech and kiss a Puffin's butt, and now we're certified honorary Newfoundlanders!
(I'm a little embarrassed to tell you this, but I can't really hold my booze. Zoom and GC drank me right under the table, and then they had to carry me home.)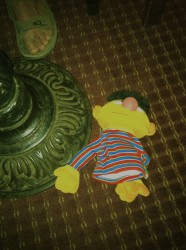 One of our favourite places in St. John's was the Rocket. We went there all the time for coffee and oatmeal and just to hang out. Cookie Monster would love it there. I'm hiding in this picture, which was taken at the Rocket. Can you see me?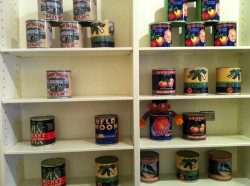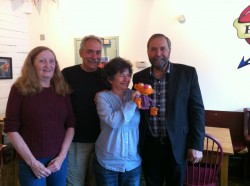 Here I am at the Rocket with some new friends. That's Misty Blue on the left and Tom Mulcair (Leader of the Official Opposition and the next Prime Minister of Canada) on the right. (He wanted to get his picture taken with me because I'm orange and orange is his favourite colour.)
We were only in St. John's for two days. It was a whirlwind trip and then it was time to go home. Here I am checking in at the airport. I love Porter Airlines, and I think they love me too.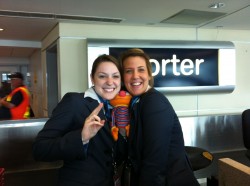 Even the pilot loves me.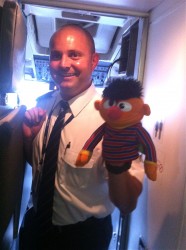 I'll be back in Newfoundland someday. There are still so many things I want to do there, like ride a whale and toboggan on an iceberg and get my picture taken with a moose and Rick Mercer.