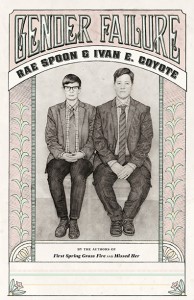 I got an advance copy of Gender Failure, by Ivan E. Coyote and Rae Spoon. It's not quite available in the stores yet, but it's coming soon and I urge you to get yourself a copy. It's an extraordinary book.
I loved the show Gender Failure so I knew before reading it that I'd love the book. The book is just like the show except it's got a bunch of extra goodies.
Ivan and Rae take turns telling stories about their experiences of being trans throughout their lives. Some of the stories were illuminating, like "How to Be Gay When the Gays Won't Have You." Some were laugh-out-loud funny, like "A Cautionary Tale." And some were burst-into-tears sad, like "Rosie." (If you saw someone weeping into a book on the #95 during the morning commute last Monday, that was probably me, reading "Rosie.")
Gender identity can be complicated stuff. What I admire most about Ivan and Rae is how they find the right balance – they don't over-explain and they don't oversimplify. They're educational without ever being teachy. Storytelling is the perfect medium for humanizing theory.
I think the key to their success lies in their unflinching honesty. They have the guts to put their own naked truth on the page, and to resist the temptation to cloak it in extra words. There is something, I think, in all of us that recognizes and responds to the raw, naked, truth when we see it. I think it brings out the best in us – maybe our own raw vulnerable nuggets of humanity.
Anyway. Extraordinary book, and highly readable too. I recommend it to anyone who loves good writing and good storytelling, especially if you have an interest in trans issues but even if you don't. Five stars, two thumbs up, worth a second read.
---
Ivan Coyote and Rae Spoon will be in Ottawa on April 25th at the Ottawa Writers Festival.
Details here
. Visit
Arsenal Pulp Press
for more information about the book.