We then put it on the market, and a week later it sold. (It wasn't quite that simple: there were negotiations, a home inspection, an issue with the insulation in the attic, wringing of hands, rolling of eyes, and writing of cheques to guys in Haz-mat suits.)
But as of April 25th, it will officially belong to somebody else. I have kind of mixed feelings about it. The house was nothing fancy, just your basic, down-to-earth working class house. Still, it suited me…I always felt that that house and I had a lot in common, including being of the same vintage. But once I started packing and moving and fixing it up and getting out, I just wanted someone to buy it so I could get the whole thing over with.
Anyway. It was a good house and I was happy there. I hope the new people are happy in it too. I wonder if I'm the only one who thinks of houses as having a kind of karma or character. Like…if you move into a house in which a miserable family lived, and where there was violence and abuse, I wonder if that energy somehow lingers in the house. (I'm tempted to delete that, because it sounds crazy. But even if I don't *think* it's true, I *feel* that it is. So I'm leaving it.)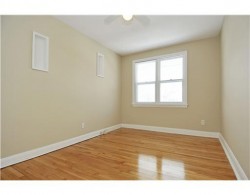 So I kind of got busy there for awhile and didn't write much about what was going on. Among other things, we fixed up my house and put it on the market. By fixed up, I mean painted the inside from head to toe, re-faced the kitchen cabinets, replaced the kitchen floor, refinished the hardwood floors, replaced the toilet and vanity in the bathroom, and fixed damage that the pets had done. And when I say we did all that, I mean we paid other people to do it, which is still a lot of work.