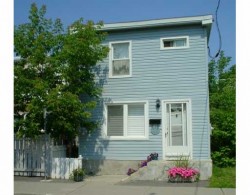 I'm thinking about buying this house. It's cute, it's fully renovated, it's in my price range, it's within walking distance of work (45 minutes) and there wouldn't be any condo fees. But it's smaller than my apartment, has no storage, has no outdoor space of any kind (except a carport), and the livingroom is kind of awkward. (The kitchen is great, but I'm more of a livingroom kind of person).
I'm going back for another look this afternoon. There are more pix & details on www.mls.ca – listing # 640294.
I have a bit of a problem when it comes to real estate shopping. I'm not an impulsive shopper. In a hot real estate market, though, you have to be an impulsive shopper because if something's any good it'll get snapped up in a heartbeat by someone who IS an impulsive shopper. So if it's not in my nature to be impulsive about $200 items, how can I be impulsive about $200,000 items?