We're actively looking for a dog now. Last weekend we went to the Humane Society and scoped out their pups, as well as to a foster home with Friendly Giants Dog Rescue, to visit a golden doodle puppy (part golden retriever, part poodle). Unbeknownst to us, this just happened to be the foster home where Lulu was staying, too.
Lulu is the schnauzer/poodle mix that we saw on the website and fell in love with, but there was already a lineup of people who wanted to adopt her. It turned out she was a bit more rambunctious and vocal than we thought she would be, and probably not a good fit for our bird-loving household.
The golden doodle, Vixen, is about four months old, and very sweet. She's very cuddly and affectionate. She was born at the Paws R Us puppy mill which was recently raided and shut down. For most of her life she's been living with the shelter that seized those dogs. When we met her, she'd been living in a foster home for only two days. She was brand new to houses and stairs and walking on a sidewalk. (We took her for a walk, and GC had to carry her.)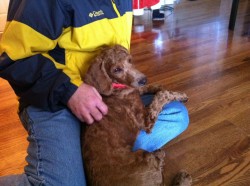 We think she'd be a good fit with Duncan and the birds. She doesn't seem to have an aggressive bone in her body. But we can't seem to make up our minds. First of all, she's got a lot more poodle than golden in her, and we're not really poodle people. We're not crazy about the look of poodles. She's not ugly, but she's not drop-to-your-knees heart-meltingly cute either. I think we're both feeling guilty about this. Is it terribly shallow of us to reject a sweet little dog on the basis of her looks?
So we keep waffling. We want her. We don't. We do. We don't. I do and he doesn't, then the next day he does and I don't.
We could see ourselves with a golden doodle that looks more like a golden. Or an adorable scruffy little mutt we could name Scruffy. Or a white dog with one black eye. We just want a cute, lovable dog who won't chase parrots.
Last night we stopped by the pet store at Carlingwood. Not to buy, just to look, because we are obsessed and must look at dogs every single day. They have a basset hound puppy named Watson. Poor Watson! We felt like rescuing him. The rescue dogs are living in much better conditions than poor Watson. He lives in a glass box in a pet store. He's been there a month. He looks so sad. And cute! Oh my god, he was cute in a ridiculous sort of way.
But he's a thousand bucks, and he's a pet store dog. I'm very leery of getting a dog from a pet store. The pet store has a sign up saying they don't buy from puppy mills, blah blah blah, and the reason they won't reveal the sources of their dogs is to protect their breeders' privacy. That screams puppy mill to me.
Meanwhile, there are three basset hounds at the Hopeful Hearts Dog Rescue. One adult, and two 6-7 month old pups. They're all rescues from the Paws R Us puppy mill.
My research on bassets says that the #1 reason they're given up is that they slobber a lot. As much as I wish that weren't an issue for me, I have to admit I don't want a slobbery dog.
Anyway. Friendly Giants Dog Rescue is coming to both GC's house and mine on Saturday to do an official home inspection. We've passed all the other tests – reference checks, vet checks, questionnaires, etc. The home inspection is the last step. Then we're officially approved to adopt one of their dogs. (This is another thing that bugs me about pet stores. They don't do any checking to make sure the animal is going to a good home. If you've got the money, you get the dog. I asked the salesperson at the pet store about this last night, and she said they're pretty cute at assessing people just through normal conversation. They can't refuse a sale, but if the person is obviously unfit to be a pet-owner, they'll "try to talk them out of it.")
So, back to Vixen, the poodly doodle puppy. We've thought about what we'd name her if we were to adopt her. We think she'd need a name that would give her courage and confidence. Like Stella. or Roxy. Or Butch.
She's sweet, gentle, affectionate, calm for a puppy, doesn't shed much, and would be respectful of birds and cats. She loves other dogs, adores people, and is good off-leash. She feels wonderful and she smells good. We have no doubt that we could love her.
Do you think we should adopt her, or wait until we find a dog that we both fall instantly 100% head-over-heels in love with?