The mayor and the police chief insisted we needed more cops, so we got more cops even though we couldn't really afford them. Never mind that the crime rate has been falling for years. It's just a demographic reality that crime rates drop as populations age, because people tend to outgrow criminal tendencies.
But as long as the mayor and the chief of police can perpetuate the perception that crime is on the rise, they can keep saying we need more cops. (It's nothing new, and it's not just here, either. It has been going on for years all over North America, and it's fueled in part by prime time TV shows that portray our cities as terribly dangerous places, chock full of brilliant and demented serial killers on murderous rampages.) But it's kind of a Catch-22, isn't it? It's in the police department's best interests not to do a very good job, because higher crime rates serve its purposes better than lower crime rates.
So now that we've increased the police budget and hired more cops, what are we going to do with them? We don't have a major crime problem here in Ottawa for them to focus on. We have almost no murders and even fewer brilliant and demented serial killers on murderous rampages. All we've got is a couple hundred crack addicts to harass.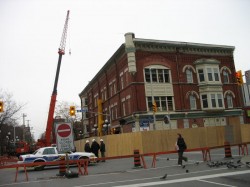 Well, how about that fiasco at Somerset and Bank? The intersection has been closed in four directions for four weeks, ever since the interior of the old Ritz Hotel caved in. Not only is it closed, but it's heavily guarded by 1-4 police officers at all times. At first it was usually two cruisers and two officers; now it's more commonly one of each. But when you think about it, a permanent round-the-clock police presence is a crazy lot of money.
Why do we need a full-time police presence there anyway? They just seem to be doing the job of security guards. I've seen it at other construction sites too – a bored-looking officer sitting in an idling car all day, doing nothing, just putting in their time.
It's not their fault, they're just doing their jobs. But surely the security guard type jobs could be handled by less expensive and less skilled labour?
I just checked to see how much police officers in Ottawa earn. They don't earn much to start – $36,540.19 per year. But don't feel too sorry for them, because in three years – assuming favourable performance reviews – they almost double their salary to $71,197.32. I'd call that a meteoric rise through the ranks.
I wonder how much security guards make?
Apart from the expense of having a fairly major downtown intersection closed for four weeks and counting, there's also the inconvenience sustained by some businesses and individuals. For example, the Dollar-It store next door (where Big Buds used to be) has been closed for four weeks. What happened to their minimum wage workers? What's going to happen to the store, losing a month's business? (I wonder if it's covered by insurance?) And then there's all the rerouted buses, detours, traffic pressure on neighbouring intersections, and so on.
On the other hand, it's kind of nice in a way. It's very peaceful and quiet and I don't have to wait for the light anymore. Manifesto Multilinko says "I think it's awesome actually – instant pedestrian zone with heavy police presence. Best thing that ever happened to the intersection."
I'm not sure I'd go that far. It's an awfully expensive intersection these days. According to Councillor Diane Holmes, the first two weeks cost over $300,000; this would put us at about $600,000 now. If we're going to turn it into a pedestrian mall, let's at least plant a few trees.
I think the city should take another look at policing. Let's define the crime problems in this city factually and honestly, and then try to figure out how to realistically address them. And we should look at how we want to use our police resources. Do we want cops sitting at a closed intersection 24 hours a day for a month? Do we need a cop at the corner of Gladstone and Bell handing out tickets to cyclists? Or should we be using our cops exclusively for crime-related activities, including prevention?
Tags: